Ministry of Health & Social Development
Release Date:
Friday, 24 January 2020 - 2:47pm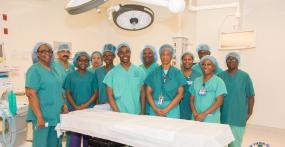 Deputy Premier and Minister for Health and Social Development, Honourable Carvin has said that his ministry will continue to contribute to the creation of a long-lasting legacy to raise the profile of the health care profession.
Honourable Malone was lending his voice to the World Health Organization's (WHO) declaration of the year 2020 as the International Year of the Nurse and Midwife.
Honourable Malone said, "The Ministry of Health and Social Development will work closely with the British Virgin Islands Nurses Association and other partners, to create a long-lasting legacy that will raise the profile of the profession with the public, boost its professional status, and make it sustainable in the future."
The Health Minister added, "We believe that developing nursing and midwifery, and allowing nurses and midwives to work to their full potential are one of the most important things we can do to improve health. They are too often undervalued and unable to work to the top of their licence; an extraordinary waste of talent and resources."
Honourable Malone further stated that the Territory is committed to introduce legislation that will recognise and empower nurses to function in enhanced capacities as Nurse Practitioners and other advance practice designations.
Meanwhile, Director General of the WHO, Dr. Tedros Adhanom Ghebreyesus stated at the 72nd World Health Assembly in Geneva that he was particularly proud to nominate 2020 as the Year of the Nurse and the Midwife, and to highlight the work of these two invaluable health professions.
This is the first time in history the nations of the world will unite to honour nursing and midwifery for the benefits contributed to the health of the global population.
In the British Virgin Islands, 221 nurses of which 66 are also midwives are registered to practice in the Territory. For more information on the International Year of the Nurse and Midwife, log on to https://www.who.int/campaigns/year-of-the-nurse-and-the-midwife-2020/get-involved/campaign-materials.
https://bvi.gov.vg/sites/default/files/minister_malone_on_the_topic_of_nurses_and_midwives_1.mp3
https://bvi.gov.vg/sites/default/files/minister_malone_on_the_topic_of_nurses_and_midwives.mp3
Author