Governor's Group
Office of the Deputy Governor
Office of the Supervisor of Election
Release Date:
Tuesday, 28 March 2023 - 2:28pm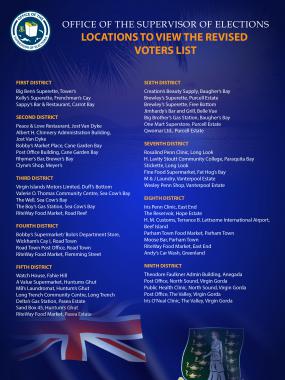 The public is advised that the Revised Voters' List for 2023 has been published.
Supervisor of Elections Ms. Scherrie Griffin said in accordance with Section 23 (1) of the Elections Act, 1994 and Amendments, the list shall be available to view during the hours of 9:00 a.m. to 4:00 p.m. daily.
Ms. Griffin said, "The list will be available in each local electoral district to which the list applies and at the Elections Office, the General Post Office and all the branch post offices and sub-post offices throughout the Territory."
Lists are also available online at bvi.gov.vg/elections under the 'Revised Voters List' section, and links will be shared via social media.
The Office of the Supervisor of Elections is located at the Creque Building, Upper Main Street. Office hours are 8:30 a.m. to 4:30 p.m. Persons can contact the office at 468-4380 or electionsvi@gov.vg
The Office of the Supervisor of Elections is committed to providing the general direction and supervision over the registration of voters, the administrative conduct of free and fair elections with integrity, and promoting transparent and accessible electoral processes in the Virgin Islands.
Author