Ministry of Health & Social Development
Safe Haven Transitional Centre
Release Date:
Thursday, 3 August 2017 - 2:23pm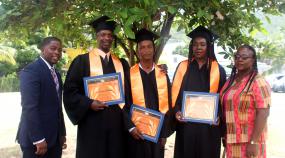 Three clients successfully completed Safe Haven Transitional Centre's rehabilitation programme, and are now 'on their own' with the centre's support.
The clients Lettsome, Todman and Smith's accomplishments were celebrated at the first Completion Ceremony held on August 1.
Director Mrs. Jacqueline Donovan said clients must fulfill the rehabilitation requirements in the first phase of the two phase programme. She explained that in phase one, clients are required to be enrolled for a minimum of six months, complete assigned therapeutic activities, attend group sessions and counseling sessions, and secure employment to prove their independence and progress back into society.
She added that after completing this phase, clients are then considered to be 'on their own' with the support of the centre.
Mrs. Donovan stated that the centre's staff ensures that clients have their necessities with a weekly in-person check-in to ensure they maintain their independence. She said that the completion ceremony is the first of its kind to celebrate the hard work that the clients accomplished in getting to this stage.
Representative for the Second District, Melvin 'Mitch' Turnbull was the guest speaker at the event. He urged the graduates to care about themselves and to maintain the belief that they deserved better and took the necessary steps that helped them transitioned back into society.
The graduates were presented certificates and a tribute in song was rendered by Ms. Gabrielle Hoyte.
For more information on how to support the activities of the Safe Haven Transitional Centre, interested persons are asked to telephone 468-5815.
The Safe Haven Transitional Centre is mandated to provide homeless individuals with a safe environment and access to programmes and services that promote self-sufficiency and independence.
Photograph attached: Caption: Pictured are the graduates with Representative for the Second District, Melvin 'Mitch' Turnbull and Representative for the Sixth District, Alvera Maduro-Caines at the Safe Haven Transitional Centre's Completion Ceremony on August 1, 2017. (Photo Credit: Franklyn Skerritt/GIS)
Author