Governor's Group
Office of the Deputy Governor
Office of the Supervisor of Election
Release Date:
Friday, 14 April 2023 - 11:32am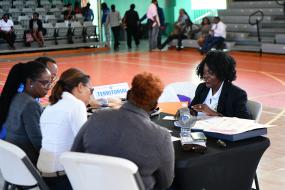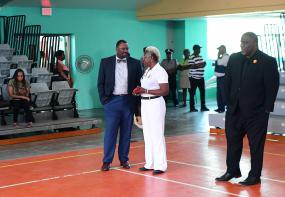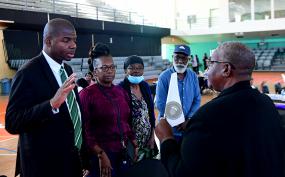 Forty-two (42) candidates will be contesting the upcoming General Elections in the Virgin Islands on April 24.
Candidates were nominated by two registered voters of the electoral district for which they are seeking election and the nomination paper was attested by one witness. At-large candidates were nominated by any two registered voters in the Virgin Islands.
Ten (10) nomination stations were opened at the Multi Purposes Sports Complex for candidates from both the local and the Territorial At-large electoral districts. All persons were required to complete Form No. 15 provided by the Returning Officers.
The candidates swore an affidavit on Form No. 16, provided by the Returning Officer, stating that to the best of their knowledge they are not disqualified under the provisions of the Constitution from contesting and being elected as a member of the House of Assembly.
The candidates contesting the 2023 General Election are:
DISTRICT CANDIDATES

District

Name

Party Affiliation

1

Karl Dawson

Virgin Islands Party

Chad George

Independent

Sylvia Romney-Moses

Progressive Virgin Islands Movement

2

Troy Christopher

Independent

Marieta Headley

Virgin Islands Party

Melvin M. Turnbull

Progressive Virgin Islands Movement

3

Julian Fraser

Progressives United

Aaron Parillon

National Democratic Party

Kevin Smith

Virgin Islands Party

4

Sandy M. Harrigan-Underhill

National Democratic Party

Luce Hodge-Smith

Virgin Islands Party

Rosita N. Scatliffe-Thompson

Independent

Ian Seymour Smith

Progressive Virgin Islands Movement

5

Marvin Blyden

Progressive Virgin Islands Movement

Kye M. Rymer.

Virgin Islands Party

6

Alvera Maduro-Caines

Virgin Islands Party

Myron Walwyn

National Democratic Party

7

Perline R. Scatliffe

Independent

Natalio D. Wheatley

Virgin Islands Party

8

Marlon Penn

National Democratic Party

Allen Ludwis Wheatley

Virgin Islands Party

9

Shereen Flax

Progressive Virgin Islands Movement

Coy Levons

National Democratic Party

Vernon Vanterpool

Independent

Vincent Wheatley

Virgin Islands Party

AT LARGE CANDIDATES

1

Ishmael E. Brathwaite

Independent

2

Daniel Robert F. Davies

Independent

3

Sharie Bianca Y. de Castro

Virgin Islands Party

4

Mitsy Jamelle Ellis

Independent

5

Renard V. Estridge

National Democratic Party

6

Carvin Malone

Virgin Islands Party

7

Stacy Mather

Progressive Virgin Islands Movement

8

Ingrid A. Moses-Scatliffe

Progressive Virgin Islands Movement

9

David Allen O'Neal

National Democratic Party

10

Kedrick Pickering

National Democratic Party

11

Ronnie W. Skelton

Progressive Virgin Islands Movement

12

Lesmore Smith

Independent

13

Lorna Smith

National Democratic Party

14

Neville Smith

Virgin Islands Party

15

Shaina Mary Ann Smith-Archer

Progressive Virgin Islands Movement

16

Karen Vanterpool

Independent

17

Zoe Walcott

Virgin Islands Party
Author