Ministry of Health & Social Development
Release Date:
Wednesday, 11 May 2016 - 11:45am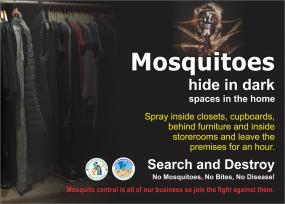 Local and regional activities are continuing to control the spread of the ZIKA virus and other vector borne illnesses.
These activities will be further supported during Caribbean Mosquito Awareness Week, to be held from May 9 to 15.
The Caribbean Public Health Agency (CARPHA) initiative will be observed under the theme, 'Small Bite Big Threat: Fight the Bite, Destroy Mosquito Breeding Sites'.
Events and activities surrounding the week are aimed at intensifying communications and mobilisation activities around vector control in all member states and inspiring communities to take action in their own homes and workplaces to reduce mosquito breeding.
Medical Officer of Health, Dr. Ronald Georges said the community should remain vigilant and support preventive measures to reduce the Territory's vulnerability to vector borne diseases like Dengue Fever, Chikungunya (chick-v) and ZIKA.
He also stated that given that CARICOM has recognised the importance of these diseases in the region, and that it is important to show solidarity with the rest of the region in dealing with these threats.
Dr. Georges added, "Activities such as this reminds us of the measures that we have to put in place as individuals and communities to raise awareness and build support. The Caribbean continues to report new cases of ZIKA, because of this, and as we are in the midst of a rainy period, we are encouraging the community to continue its efforts to reduce mosquito breeding sites around their premises."
Residents are reminded to "Fight the Bite, Destroy Mosquito Breeding Sites" by conducting weekly surveillance activities around their premises. Unusable containers and garbage are to be disposed of on a regular basis, and blocked drains are to be opened where water could settle. Persons are also encouraged to properly scrub the sides of containers to destroy mosquito eggs, keep the yard clean and clear of weeds and keep containers not being used faced down.
The Ministry of Health is committed to ensuring that all aspects of the environment are managed efficiently to enable all persons in the BVI to attain and maintain optimal health and well-being.
Author