Adina Donovan Home for the Elderly
Release Date:
Thursday, 7 April 2016 - 4:45pm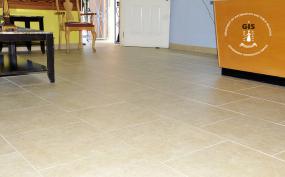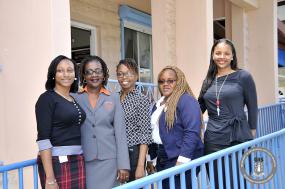 Residents at the Adina Donovan Home for the Elderly now have a safer and more welcoming environment following the installation of new floor tiles at the home.
The tiling project was a collaborative effort of the Rotary Club Sunrise and James Todman Construction Limited and is part of on-going efforts to upgrade the ambience and standard of the institution.
President of Rotary Club Sunrise, Mrs. Jeanette Scatliffe-Boynes said that Rotary is always happy and willing to assist when the need arises. She added that the club made a contribution of over $3,000 for the tiles and the materials. James Todman, also a member of Rotary Club, offered the services of his workers to complete the work.
Renovations were done in the reception area, two dining rooms, kitchen and front porch. Mrs. Scatliffe-Boynes said she looks forward to Rotary Club Sunrise's continued support of the Adina Donovan Home.
Manager of the home, Mrs. Marilin Malone-Bass said the staff and residents appreciated the kind gesture and that the renovations helped to create a cleaner and more welcoming environment.
The Adina Donovan Home continues to ensure an optimum quality of life for all residents by providing an environment that caters to their unique spiritual, emotional, physical and mental well-being.
Rotary International is an international service organisation whose purpose is to bring together business and professional leaders in order to provide humanitarian services, encourage high ethical standards in all vocations, and help build goodwill and peace in the world.
Author