Ministry of Health & Social Development
Adina Donovan Home for the Elderly
Release Date:
Wednesday, 26 April 2017 - 5:13pm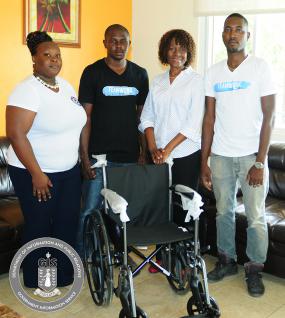 The community continues to lend support to the Adina Donovan Home for the Elderly, as seen in the recent wheelchair donation from the Teamwork Family Entertainment (TWF).
The wheelchair was presented to the Manager of Adina Donovan Home, Mrs. Marilin Malone-Bass today, April 26, who expressed her gratitude to TWF, on behalf of the management, staff and residents of the home.
Secretary of TWF, Ms. Stepheney Williams said that the members of TWF, as citizens of the BVI, saw it fit to give back to the community that has also supported TWF.
Ms. Williams said the wheelchair was obtained from Eureka Medical Clinic and thanked T-Shirt Genius for providing the logo branding.
Teamwork Family Entertainment (TWF) is a group that officially started in October 2016 with a vision to provide a wide variety of entertainment to the British Virgin Islands (BVI) community fostering good fellowship, mutual respect and cultural diversity among all cultures in the BVI in an organised and clean manner.
The Ministry of Health and Social Development aspires to provide a caring and integrated system of health and social services that facilitates human development and improves the quality of life in the Virgin Islands.
Photo Caption: From left to right, Secretary of TWF Stepheney Williams; Manager of TWF Thelson Nicholson; Manager of the Adina Donovan Home, Mrs. Marilin Malone-Bass; and Vice President of TWF, Gregory Garnett . (Photo Credit: Ronnielle Frazer/GIS)
Author