Office of the Deputy Governor
Office of the Supervisor of Election
Release Date:
Tuesday, 19 February 2019 - 5:54pm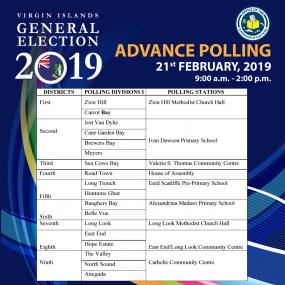 The Office of the Supervisor of Elections Office is reminding the public that Advance Polling will be held on Thursday, February 21 from 9:00 a.m. to 2:00 p.m.
Supervisor of Elections, Ms. Juliette Penn said that Advance Polling is held specifically to allow seniors and persons who need extra assistance to vote. She added that it is the day allotted for persons who would need some extra time with the presiding officer or help from a friend.
The amendments to the Elections Act of 1994 permit a voter who is incapacitated by reason of being an elderly person, illiterate or any physical cause to be able to vote with the assistance of a friend. The term 'friend' includes family and relatives. This category of voter has the option to take advantage of Advance Polling Day.
Recently, with the passage of the Elections (Amendment) Act, 2019 the category of persons who can vote on Advance Polling Day has expanded. Persons on remand and persons traveling in advance of the date of the general election can now vote at advance poll. Persons traveling are required to provide a copy of their ticket to the Supervisor of Elections with their application.
Advance Polling Day is also for election officers and police officers who will be working on Polling Day, Monday, February 25. The public is advised to pay keen attention to the list of polling stations as it reflects changes since the last election.
The polling stations for Advance Polling Day are as follows:
DISTRICTS

POLLING DIVISIONS

POLLING STATIONS

First

Zion Hill

Zion Hill Methodist Church Hall

Carrot Bay

Second

Jost Van Dyke

Ivan Dawson Primary School

Cane Garden Bay

Brewers Bay

Meyers

Third

Sea Cows Bay

Valerie O. Thomas Community Centre

Fourth

Road Town

House of Assembly

Fifth

Long Trench

Enid Scatliffe Pre-Primary School

Huntums Ghut

Sixth

Baughers Bay

Alexandrina Maduro Primary School

Belle Vue

Seventh

Long Look

Long Look Methodist Church Hall

Eighth

East End

East End/Long Look Community Centre

Hope Estate

Ninth

The Valley

Catholic Community Centre

North Sound

Anegada
The Supervisor of Elections is reminding voters to follow the directions given by the presiding officers and poll clerks regarding the proper way to mark their ballots.
One ballot will be used in each electoral district. Voters will vote for one local district candidate and up to four Territorial at large candidates. Voters are urged to shade the oval on their ballots to select their candidates of choice. Votes will be counted using the electronic tabulating machine.
The Office of the Supervisor of Elections is committed to ensuring fair and clean elections.
# # #
Flyer for Advance Polling Day is attached
Author