Royal Virgin Islands Police Force
Release Date:
Thursday, 20 July 2017 - 4:14pm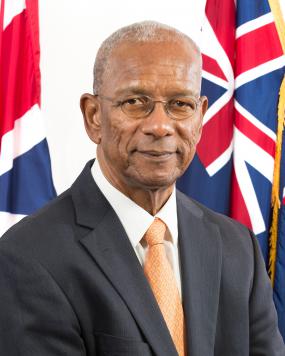 Premier of the Virgin Islands, Dr. the Honourable D. Orlando Smith, OBE has said that his Government remains zealously committed to the most essential services including that of public safety.
The Premier in his 2017 Mid-Term report stated that he is deeply troubled by the persistence of violent crime in the Territory and that he is resolute about doing something about it.
Premier Smith said, "It is intolerable and unacceptable that so many of our young people have bought into the lies sold to them by foreign companies promoting a lifestyle of drugs, violence, hatred and yes, murder. We are all in a battle for the lives of our children and the safety of our community."
The Honourable Premier said the BVI is still a very safe corner of the world and that the rates of violent crime remain much lower than much of the region or the broader world.
He stated that these relatively low rates of crime,however, are not acceptable to his Government or to the God-fearing and law abiding people of the Territory.
"That is why my Government is giving our full backing to the [Royal Virgin Islands Police Force] RVIPF. We have provided the police with all the financial support they need and we are demanding of them that they step up their efforts to respond to and solve open criminal cases.
He added, "I appreciate the efforts of those community minded persons who have called attention to this rise in crime through concerts and other events and reiterate my call upon the people of the Territory to work with the police toward the goal of solving crimes that have been committed."
The Honourable Premier further stated that everyone must be united in this effort as there is no Belonger and non-Belonger; no NDP or VIP; no resident or visitor when it comes to crime.
Premier Smith said, "On this front there are only two sides – us and them. On our side are all those who uphold the law. On their side are those who seek to corrupt our youth and spread violence among our people.We all must decide on which side we stand and then act accordingly."
The Government of the Virgin Islands will continue to put measures in place in the fight against crime and violence in the Territory.
Audio clips: Excerpt 3 – Mid-Term Report by Premier
Excerpt 4 – Mid-Term Report by Premier
https://bvi.gov.vg/sites/default/files/296_-_audio_clip_1_of_2_-_excerpt_3_-_mid_term_report_by_premier_-_bvi_government_remains_committed_to_public_safety.mp3
https://bvi.gov.vg/sites/default/files/296_-_audio_clip_2_of_2_-_excerpt_4_-_mid_term_report_by_premier_-_bvi_government_remains_committed_to_public_safety.mp3
Author