BVI Finance
Release Date:
Wednesday, 1 June 2016 - 4:45pm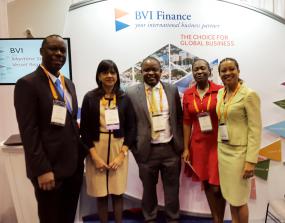 For the first time since the enactment of the Trade Marks Act 2013 and the Trade Marks Rules 2015, BVI Finance and the Virgin Islands Association of Registered Trade Mark Agents (ARTMA) attended the International Trademark Association's (INTA) annual meeting.
INTA held its 2016 annual meeting in Orlando, Florida from 21 May to 25 May. Over 10,000 brand management, trade mark and intellectual property professionals from various countries and jurisdictions including China, Hong Kong, Korea, Mumbai, Bangladesh, Nigeria, Zimbabwe, Cameroon, Ukraine, Italy, Brasil, Argentina, Columbia, Ecuador, Dominica, St. Lucia, Jamaica and Dominican Republic attended to discuss and obtain new and noteworthy information regarding trademarks and intellectual property in an effort to protect consumers and promote fair and effective commerce.
President of ARTMA and founder of Thorton Smith, Mr. Jamal Smith, expressed his pleasure at being a part of the largest INTA Annual Meeting ever held and said, "Attending this meeting placed the over 10,000 intellectual property professionals from around the world in direct contact with BVI trade mark agents and officials from BVI Finance and the Financial Services Commission." He added, "Under this year's theme of "personal branding", the BVI brand got tremendous exposure over an amazing five day event of educational sessions and networking."
The BVI's eight member delegation included BVI trade mark agents Jamal Smith of Thornton Smith, Tatenda Gotosa of Harneys, Aiko Stevens of Harneys, Feroza Kartick of O'Neal Webster, and Adenike Sicard of HPA Lawyers. They were also accompanied by representatives from BVI Finance and the Financial Services Commission including Mrs. Alicia Green, Ms. Kamika Forbes and Ms. Travicca Smith.
The INTA Annual Meeting is largely an educational opportunity however, it offers considerable networking benefits. During the five day event BVI Finance received numerous requests for more information on the jurisdiction's portfolio of services and on the process of trade mark registration and the benefits offered.
Head of Fund Governance at Harneys, Mr. Tatenda Gotosa, relayed the importance of attending this event and said "I believe the conference is a fantastic platform for the BVI to showcase not only our intellectual property registration capabilities and related legal services, but also for BVI Finance to promote the full range of our BVI services to the global market".
He further added, "Harneys had the opportunity to meet existing clients and expand our network in the intellectual property industry and the workshops we attended were very thought-provoking and inspirational."
The Trade Marks Act and the Trade Marks Rules brings the BVI's registration and protection of trade marks in line with other jurisdictions across the world. The BVI currently has 7,000 trade marks registered and hopes to increase this number by the next INTA Annual Meeting, which will be held in Barcelona, Spain.
BVI Finance is solely responsible for marketing and promoting the BVI financial services industry. More information can be found at www.bvifinance.vg, contacting info@bvifinance.vg or following BVI Finance on Facebook, Twitter and LinkedIn.
Author