Ministry of Health & Social Development
Release Date:
Friday, 15 July 2016 - 4:27pm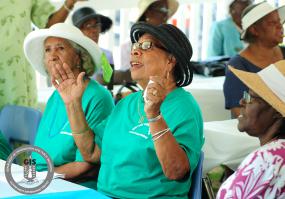 Senior citizens' programmes will be closed in July and August to facilitate staff training and programme evaluations.
Programme Director, Ms. Shirma George said that it is customary for the programmes to be closed for one month during the summer. She said this year's programmes however, will be closed for two months to allow for staff training and development.
Ms. George added that the programmes will also be evaluated with the intent to enhance service delivery to the seniors.
Programmes will be closed in Brewer's Bay; Carrot Bay; Anegada; East End/Long Look; Road Town; and Virgin Gorda and will re-open on Monday, September 5.
The public is also advised that the Sea Cows Bay Senior Programme will be opened to cater to the needs of persons with Alzheimer's and Dementia from July 18 to 29 on Mondays, Wednesdays and Fridays. Relatives of these persons are required to provide transportation to and from the centre in the absence of the regular programmes during this time. For more information regarding the closure, persons are asked to contact the Social Development Department at 468-3650.
The Ministry of Health and Social Development aspires to provide a caring and integrated system of health and social services that facilitates human development and improves the quality of life in the Virgin Islands.
Author