Premier's Office
BVI Finance
Department of Trade, Investment, Promotion and Consumer Affairs
Release Date:
Monday, 30 May 2016 - 12:15pm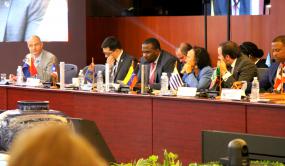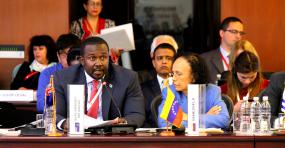 The BVI has highlighted the positive role of financial services and deepened its international cooperation with Latin America and the Caribbean at the 36th Session of the United Nations Economic Commission for Latin America and the Caribbean (UN ECLAC).
Junior Minister for Trade, Investment Promotion and Consumer Affairs, Honourable Marlon A. Penn attended the session in Mexico on behalf of the Premier and Minister of Finance, Dr. the Honourable D. Orlando Smith, OBE.
.Honourable Penn, in speaking on the Territory's role as an International Finance Centre stated, "The British Virgin Islands contributes positively to the world economy by facilitating the efficient pooling of capital by international investors which is then invested largely in developing and emerging economies in critical sectors such as infrastructure".
This, he said supported the growth of trade and commerce and the creation of jobs. The BVI is proud of this role.
Honourable Penn further explained that the BVI strikes an appropriate balance between transparency and privacy. "We do not tolerate the abuse of our corporate structures and do take decisive action when wrongdoing is identified," he added.
The biennial session was being held in Mexico City from May 23 to 27and gave consideration to the most pressing economic and social development issues facing all the countries of the region. Among the key issues advanced by Caribbean states during the session was unsustainable debt, threats to the region's correspondent banking relationships and climate change adaptation.
Discussions also focused on identifying strategies for the implementation of the 2030 Sustainable Development Goals or SDG's, nationally and through regional and international cooperation. Honourable Penn was accompanied by the Assistant Secretary for External Affairs, Ms. Najan Christopher.
In the margins of the ECLAC meeting, Honourable Penn and Ms. Christopher attended a Caribbean Forum on sustainable development and participated in a dialogue between Caribbean members of ECLAC and the Mexican Ministry of Finance on financial services and correspondent banking.
The Government of the Virgin Islands' policy is to broaden and strengthen its international relationships with Latin America and the Caribbean. ECLAC therefore provides a platform by which to engage the region constructively on key issues such as economic and sustainable development. Additionally, the BVI is exploring technical support from ECLAC on economic, social and environmental issues.
The BVI is the oldest Associate Member of the ECLAC, having become a member since 1984. The Territory serves as a Vice–Chair of the Caribbean Development Cooperation Committee (CDCC), a permanent subsidiary body of ECLAC for the Caribbean sub-region.
Author