Premier's Office
Release Date:
Thursday, 11 June 2015 - 4:45pm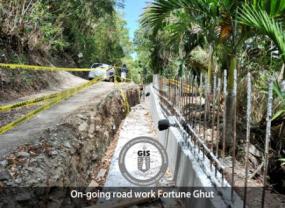 The Government of the Virgin Islands is pleased that the infrastructural rehabilitation and road stabilisation programme under the Caribbean Development Bank (CDB) portfolio is progressing.
Permanent Secretary in the Ministry of Communications and Works Mr. Anthony McMaster in an update on projects said that the Parham Town project is now 100% complete with the addition of a new drainage component. He said Pleasant Valley is also complete per contract and is undergoing other works which include re-fencing.
Other projects which are complete under the CDB portfolio include Ballast Bay and Thomas Land.
Mr. McMaster said "The projects being executed under the Caribbean Development Bank are advancing through the necessary stages and the ministry is aiming for all projects to be in process by the end of the year."
The Permanent Secretary stated that tenders are now being accepted for Windy Hill, and works contract decisions are being made for Nottingham Estate, Lee Road, Horse Path, Huntum's Ghut and Long Trench. Works continue in Fortune Ghut, while Harrigan Estate and Greenland are still in the design stage.
Mr. McMaster said that in 2010, there were severe flooding, landslides, rock falls, tree falls and damage to the road infrastructure with the passage of tropical storm Otto. These projects, he added, are expected to mimimise the effects of another tropical storm or hurricane.
The Ministry of Communications and Works thanks the residents and the affected communities for their continued cooperation and patience as it moves forward with its infrastructural development and maintenance initiatives.
Author