Ministry of Finance
Release Date:
Tuesday, 19 April 2016 - 4:30pm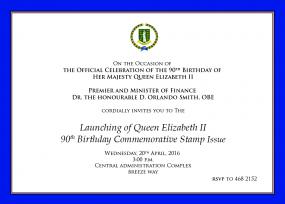 The 90th birthday celebrations for Her Majesty Queen Elizabeth II will continue tomorrow Wednesday, April 20 with the launch of a commemorative stamp issue.
The launch ceremony will be held at the Central Administration Complex, Breeze Way at 3:00 p.m.
The ceremony will be addressed by speakers including His Excellency the Governor, Mr. John S. Duncan, OBE; Premier and Minister of Finance, Dr. the Honourable D. Orlando Smith, OBE; Deputy Governor and Chairperson of the Queen Elizabeth II 90th Birthday Planning Committee, Mrs. V. Inez Archibald, CBE; and Postmaster General, Ms. Pascha Stoutt.
Ms. Stoutt said she was pleased that the BVI POST could contribute and participate in this auspicious event by creating four timeless pieces which will go down in Virgin Islands' history.
She added, "The stamp issue includes four stamps, a souvenir sheet and a first day cover. All of the images used depict that of Her Majesty Queen Elizabeth II."
The stamp launching ceremony is the third event hosted by the Queen Elizabeth II 90th Birthday Planning Committee. The first two events were the Salt Breaking and Gifting Ceremony held on March 24 and the Road Shows to the Territory's schools held from April 11 to 15.
The celebrations will continue with a parade and two ceremonies highlighting Her Majesty's 90th birthday which will be celebrated on Thursday, April 21. Various aspects of the Territory's culture will be showcased during simultaneous Beacon Lighting Ceremonies to be held on Tortola, Anegada, Jost Van Dyke and Virgin Gorda at 6:30 p.m.
Author