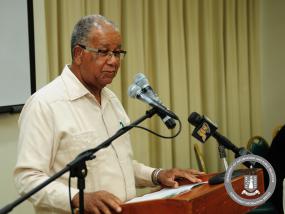 Mr. Elton Georges, CMG, OBE has been appointed Chairman of the BVI's Health and Wellness Advisory Council.
Mr. Georges will lead the council which is mandated to act as the champion for health and wellbeing and to promote Non Communicable Diseases (NCDs) prevention, treatment and control at a national level. Another of the council's objectives is to improve the health status of all residents across the life cycle.
The new chairman said he appreciates the opportunity to lead the council as a high level of health and wellness is of supreme importance to the development of society, and to achieve it all persons and all parts of the community must be working together.
Mr. Georges said, "After attending the recent conference on NCDs, I have to say that I am pleased with the structure that the Ministry of Health has put in place and the work already done. I will do my best to help to build on the progress already made. My experience with the Diabetes Association over the past ten years convinced me that this approach is the way to go."
Coordinator for Health Services Promotion and Focal Point for NCDs, Ms. Ivy George, explained that both CARICOM 2007 and the 2011 United Nations meetings on NCDs recommended that countries set up a high level multi-sectorial body to coordinate the national work of NCDs. This will be done using a health-in-all-policies, whole-of-government and whole-of-society approach.
Ms. George added that the council will not only focus on disease prevention and control but also on the risk factors and social determinants of health.
She said, "In order to do this, we need to have a wide cross section of agencies working together to be able to coordinate, collaborate and systematically advance a national agenda for health and wellness. This is the purpose of the council."
The BVI Health and Wellness Advisory Council is comprised of representatives from the private sector, civil society and government. It is supported by two implementation arms: the Inter-departmental Technical Working Group whose primary role is to facilitate cross sectorial collaboration and integration across Government, and using a community development approach which seeks to coordinate the community response through active community participation.
Other members of the National Advisory Council are the Hon. Archibald Christian, Chairman of Interdepartmental Technical Working Group on Health and Wellness; Mr. Rodney Herbert representing the Media; Mrs. Lilian Jareales-Hewlett, ZONTA; Mr. Jeremy Maduro, Food Industry; Mr. Sonniel Pickering, Virgin Islands National Youth Parliament; Mr. Cromwell Smith, Community Activist for Health; Pastor Holford R. Brown representing Faith-based Organisations; and ex-offico members Dr. Irad Potter, Chief Medical Officer; Dr. June Samuel, Chief of Medical Staff, BVI Health Services Authority; and Ms. Ivy George, Coordinator Health Promotion Services and National Focal Point for NCDs.
The Ministry of Health is committed to ensuring that all aspects of the environment are managed efficiently to enable all persons in the BVI to attain and maintain optimal health and well-being.
Author
Ministry or Department Associated with this News Article: