Fire and Rescue Service
Release Date:
Monday, 3 October 2016 - 11:37am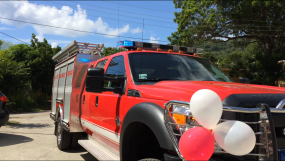 This year's Fire Safety Awareness Week aims to educate the public on unseen potential fire hazards.
Chief Fire Officer, Mr. Zebalon McLean, said at the opening ceremony, "This week we will be focusing on those hazards that you don't usually see. All those various chemicals and items that you store in places that you should not, because they are exposed to heat. This is what we are highlighting this year."
He added, "One of the best ways to protect your home or business against fire is to educate your family and staff on the causes of fire and encourage them to be vigilant and report any potential fire hazards, so that they can be dealt with swiftly."
The Virgin Islands Fire and Rescue Service is offering the following fire prevention information and tips:
Flammable Materials Near Heat
Having anything flammable near a heat source is a quick way to start a fire. For example, if a lampshade, clothes and curtains are rubbing too close to a light bulb.
Unattended Candles
Unattended candles cause hundreds of fires each year. Even with a safe holder, candles should never be left unattended. It only takes a minute for a pet, child, the wind or a person to knock a candle over onto flammable material.
Outdoor Cooking Equipment
If outdoor cooking equipment like a barbecue grill is improperly used or not maintained, it is a fire hazard.
Worn out Electrical Cords
Frayed or chewed electrical cords start many house fires. Exposed electrical wires will light your floors or rugs on fire in no time. Prevent pets from chewing on electrical cords and can cause serious fire hazards.
Leaving Unattended Food Cooking in the Kitchen
The kitchen is often the most fire-prone room in the house. Unattended pots, frying on the stove, toasters, hotplates, dishes that are not microwave-safe and cookbooks near naked flames or heat are the common causes of fires. Persons may leave and plan to come right back and often do not. These items need to be monitored if they are on, or turned off if persons are leaving home.
Mr. McLean said "The human error factor cannot be completely removed. However, through proper training, you can take steps to reduce it by providing effective procedures and guidance for your staff, family and friends, in advising them on the best fire safety and fire prevention practices."
The week commenced on Sunday, October 2, with an opening ceremony at the Sea Cows Bay Methodist Church where the congregation welcomed the fire officers and blessed the week of activities. Fire Safety Awareness Week ends Sunday, October 9.
For more information about the week of events for Fire Safety Awareness Week or to make an appointment for a training on fire safety, call the department at 468-4267 or visit bvi.gov.vg.
Author