Ministry of Education, Youth Affairs and Sports
Department of Culture
Release Date:
Tuesday, 6 March 2018 - 5:30pm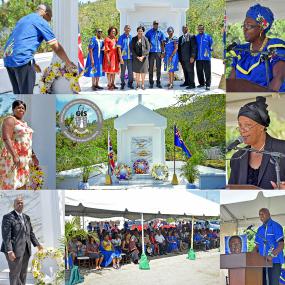 The Territory's residents paid homeage to the Virgin Islands' first Chief Minister, Hamilton Lavity Stoutt at the 23rd Annual Memorial Celebration and 18th Wreath Laying ceremony on March 5.
The ceremony was held at the Cappoons Bay cemetery under the theme, "What would H. Lavity Stoutt do? Right here! Right now!"
Premier and Minister of Finance, Dr. the Honourable D, Orlando Smith, OBE said the Territory is commemorating the anniversary with a difference, and that H. L Lavity Stoutt was a man of action, a man of inclusiveness and a man who never forgot to say thank you.
Premier Smith said, "H. L. Stoutt never failed to express his gratitude and appreciation to people. He would have been proud of all the men and women who work in all our utilities and infrastructure and who came out in the early days to get our community back on track. He would have been proud of all the volunteers from here and abroad, of the voluntary organisations and all who sacrificed to give humanitarian assistance and support to the BVI in the time of greatest need."
Meanwhile, Minister for Education and Culture, Honourable Myron V. Walwyn said the late Chief Minister was a consummate politician who dearly loved his country and someone who had a passion for the growth and development of the people of this Territory.
"Today we remember the legacy of a man whose existence and vision has contributed to the benefits that we have come to enjoy as a Territory," Honourable Walwyn said. He added, "As we continue on our path towards recovery, may we be guided by the principles and lessons that H.L. would have taught us – asking ourselves: what would H Lavity Stoutt do? Right here! Right now!"
Presentations were also made by Leader of the Opposition and Representative for the First District, Honourable Andrew A. Fahie and keynote speaker former Deputy Governor, Mrs. V. Inez Archibald.
The late H. Lavity Stoutt was born on March 7, 1929. He served as Chief Minister of the Virgin Islands for over sixteen years and is credited with establishing the cruise ship pier, creating the Social Security scheme, overseeing the construction of the Central Administration Complex and spearheading the development of the local community college, which is named in his honour.
Mr. Stoutt was at the helm throughout the Territory's development as an international finance centre and was described as being very passionate and committed to the development of educational opportunities for the people of these islands. The first Monday in March is declared a public holiday in celebration of the anniversary of his birthday. He died on May 14, 1995.
The Government of the Virgin Islands through the Ministry of Education and Culture celebrates the life of the late Honourable H. Lavity Stoutt as a person of historic significance to the Territory.
Author