Immigration Department
Release Date:
Tuesday, 2 May 2017 - 12:02pm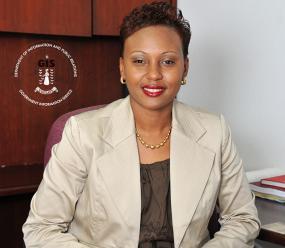 Of the 27 illegal immigrants detained last month, 22 have been repatriated, according to Acting Chief Immigration Officer, Mrs. Geraldine Ritter-Freeman.
A total of 27 illegal immigrants including a suspected captain, six women and five children were identified and held in custody by local law enforcement officials on and around April 10.
Twenty-two of the said immigrants were repatriated from the Territory, on and around April 20, to their respective places of origin. Three of them are still in the Territory assisting with the ongoing criminal investigation. One has been charged with human smuggling and illegal entry, and the other is currently in the process of being repatriated.
The immigrants detained held identification from five different countries including Haiti, Cuba, Sri Lanka, Santo Domingo and India. Twenty-two of the immigrants hailed from Haiti.
Mrs. Ritter-Freeman said she is completely satisfied with the collaboration amongst the respective responding Government agencies and the private sector to ensure that the immigrants were detained, processed, housed and eventually repatriated in a timely manner. The mutual cooperation by our regional and international Immigration partners is also noteworthy and in keeping with the Department's vision to strengthen local, regional and international ties.
She added, "With continued collaboration, it is also envisaged that the respective charges will be made and the relevant persons will be prosecuted."
According to Mrs. Freeman, it is the mandate of the Immigration Department to ensure the overall safety and well-being of the immigrants and the security of the Territory is achieved.
"While in custody, medical assessments were afforded to all of the immigrants, with some receiving further medical attention. However, the majority of those detained and repatriated were deemed to be in good health," she said.
The mission of the Immigration Department is to contribute to the security and prosperity in building a stronger and better BVI, by operating a fair but firm immigration control that regulates and facilitates the movement of people through BVI borders in accordance with BVI immigration laws.
Photograph is attached.
Acting Chief Immigration Officer Mrs. Geraldine Ritter-Freeman (Photo credit: GIS)
Author