Ministry of Health & Social Development
Department of Waste Management
Release Date:
Wednesday, 16 February 2022 - 4:52pm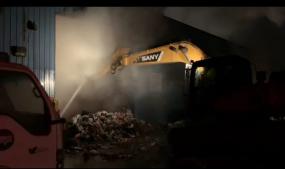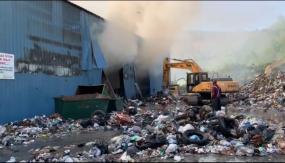 Assist Manager at the Department of Waste Management, Mr. Anslem Myers has said that the incinerator at Pockwood Pond will be offline for a couple of months after an early morning fire caused significant damage.
An explosion that caused a spontaneous fire in the wee hours of Monday morning February 14, rocked the incinerator, which resulted in a massive fire. According to the Assistant Manager, the fire took place after 2:00 a.m. following the explosion inside of the incinerator facility where the garbage is stored for incineration.
"The fire escalated very quickly. Our workers tried to contain the fire but were unable to," Mr. Myers explained. He further stated that based on initial assessment there were extensive damages to the electrical system in the building and damage to equipment. While we have not done a complete assessment yet, we are estimating that the incinerator will be offline for a few months to have repairs carried out.
In the interim, the accumulated garbage will be trucked to the landfill until the incinerator comes back online. Mr. Myers is asking the public to refrain from putting flares, gas tanks, empty AC gas canisters and other flammable and combustible items into the garbage stream.
Persons who have these types of materials to dispose should contact the Department of Waste Management at 468-4934 for special instructions.
The Department of Waste Management is committed to ensuring that the natural beauty of the Territory is enhanced by utilising state of the art waste management technology to ensure timely collection disposal, and where possible, the recycling of waste.
Author