Royal Virgin Islands Police Force
Release Date:
Wednesday, 13 July 2016 - 3:27pm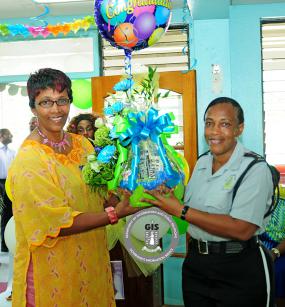 Virgin Gorda native, Ms. Jacqueline Vanterpool was appointed the first female Superintendent in the history of the Royal Virgin Islands Police Force (RVIPF).
Ms. Vanterpool formerly served as Acting Chief Inspector of the Royal Virgin Islands Police Force responsible for the Virgin Gorda and Anegada Police Constabulary.
Commissioner of Police, Mr. Michael Matthews said that he was excited to witness such a historic moment for the Virgin Islands and to be a part of history in the making for the RVIPF.
Commissioner Matthews said, "I am absolutely delighted and honoured to be the Commissioner who happened to be around when the first female Superintendent arrived. You took your time getting here and it is long overdue."
Minister for Education and Culture, Honourable Myron V. Walwyn congratulated Ms. Vanterpool on her appointment and called for support for the Superintendent.
Honourable Walwyn said, "While you celebrate with Ms. Vanterpool, this is just the beginning. I ask you to support her in her role. Even though Ms. Vanterpool is an exemplary public servant, she cannot do it without your support; give her your full support and cooperation."
Leader of the Opposition, Honourable Julian Fraser also congratulated Superintendent Vanterpool on her appointment. He also called on the other members of the police force to support the officer in her new role in her career.
In response to the well wishes and her recent appointment, Superintendent Ms. Jacqueline Vanterpool gave glory to God and pledged to remain a humble servant of the Lord and the Royal Virgin Islands Police Force.
Superintendent Vanterpool said, "It is indeed a new season in my career. I've made this promise to myself and I now make it to each of you, I will always endeavour to do my best with the help of the Lord and my fellow colleagues."
She added, "I will maintain my integrity; I will never lose my passion for protecting these lovely Virgin Islands. I stand on my faith and the promises that God has given me in his word which says, 'I Jacqueline Vanterpool can do all things through Christ who strengthens me."
Author