Ministry of Health & Social Development
BVI Health Services Authority
Release Date:
Monday, 25 May 2020 - 4:56pm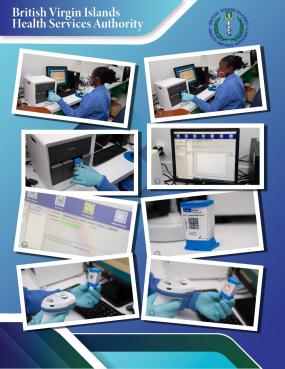 The BVI Health Services Authority (BVIHSA) has received a new Cepheid GeneXpert machine and cartridges/tests from the United Kingdom Foreign and Commonwealth Office that will enhance the Territory's ability to carry out COVID-19 testing.
"It is an analyzer, that is easy to operate, simple to use and provides rapid results in much less time than our existing PCR," Laboratory Manager, Ms. Colette McCurdy explained.
According to the Lab Manager, the BVIHSA now has two Polymerase Chain Reaction (PCR) machines to test for COVID-19. "This new machine utilises similar gold standard PCR-based technology as our existing system but now gives us the ability to conduct both PCR-based rapid testing and in-house verification," she said.
Ms. McCurdy noted that, "The verification is being done with our existing Analytik Jena AG qTOWER3 G machine, which is a real-time PCR platform that allows for the use of different reagents from different manufacturers."
She further stated that the BVIHSA has had the capacity to conduct COVID-19 tests and previously utilised CARPHA to complete the validation process, adding, "With the addition of this new equipment, we no longer have to send our samples to CARPHA for verification."
The BVIHSA Laboratory also participates in proficiency testing from the College of American Pathologists which monitors and compares the performance of COVID-19 testing of the local laboratory with other laboratories in their network.
The BVI Health Services Authority is committed to delivering excellent, compassionate, client-centered healthcare across the Territory.
Author