BVI Tourist Board
Release Date:
Monday, 8 August 2016 - 3:26pm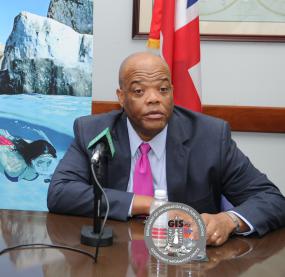 Cabinet has approved the re-appointment of Mr. Russell Harrigan as chairman of the BVI Tourist Board. Mr. Harrigan has held the position since 2011.
In his capacity as chairman, he will be supported by committee members Messrs. Julien Johnson, Clyde Lettsome, Denniston Fraser, Romney Penn, Sendrick Chinnery, Mike Rowe and Ms. Tanya Whistler for a period of four years (until 2020). Ex-officio members of the board are the Permanent Secretary in the Premier's Office and the Managing Director of the BVI Ports Authority.
All members represent a cross-section of disciplines in various industries such as small properties/resort development, culture, hotel ownership, yachting industry, taxi industry, car rental management, aviation and sports fishing.
Premier and Minister of Finance, Dr. the Honourable D. Orlando Smith, OBE said that the Cabinet decision reflects the Government's confidence in the board of directors to maintain the Territory's reputation as a prime tourism destination, and a leader among our global tourism counterparts.
Premier Smith has charged the Board with growing tourism annually, diversifying our offerings, to improve the experience of all tourists, locally, regionally and internationally by offering a greater variety of activities: museum tours, special events, cultural activities, historical sites and the like.
Section 3 (3) of the Tourist Board Ordinance Cap. 280 (as amended) provides for a board membership of up to fifteen members to serve for a period of four years.
Author