Ministry of Health & Social Development
Release Date:
Tuesday, 2 June 2015 - 5:15pm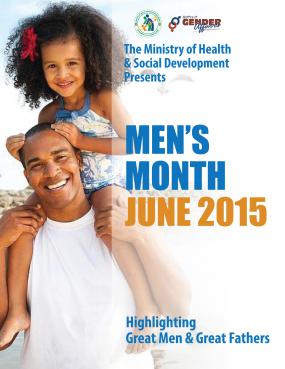 A campaign has been launched to inspire men to be positive role models for their children and the community with several activities to be held during this month.
The Men's Month campaign also aims to educate men on the importance of healthy holistic living and raise public awareness of the unique health concerns affecting men and boys in the Territory.
Coordinator for Gender Affairs, Ms. Lorolie Connor said that the month of June is about addressing the needs of men and highlighting their importance to the society. She said men should be empowered to be the best they can be and the vital role they play in the development of the Territory must be respected and appreciated.
Ms. Connor stated that a healthcare gap exists for men in the society where women outlive men by seven years. She added that it is very important that the office of Gender Affairs try to bridge that gap. "We don't know if this gap exists because men are more focused on taking care of the household and sustaining the family, whether it is a fear factor or cultural issues, but a significant component of this campaign is geared towards empowering men to take better care of themselves," she said.
As part of the month of activities, information will be provided to men on health issues as well as testing for blood sugar glucose, blood pressure and HIV. A fatherhood campaign, "man cave" activities, media messages and interviews, targeted health fairs, a Daddy and Me UMI fashion show and bar and block visits are among the activities for the month.
Ms. Connor said that the fatherhood component of the campaign will seek to highlight great fathers and promote effective co-parenting which will benefit children and society.
She said men's roles are as valuable as those of women and that their involvement in their children's lives is very important. Ms. Conner added that going to Parent Teachers Association meetings, visiting schools, helping with homework, taking children to the doctor, among other activities, are vital to ensure emotional and cognitive development of children.
The Gender Affairs Unit is inviting all men to participate in the many activities that will be held during the month.
A Co-Parenting Conscious Parenting course will also be held every Tuesday and Thursday from June 16 to July 9 at the BVI Red Cross conference room. The session aims to assist parents who are no longer in an intimate relationship to parent in a cohesive manner. Free childcare and refreshments will be available.
The Office of Gender Affairs is committed to the development and implementation of policies and programmes that promote gender equality and equity.
Author