Ministry of Natural Resources and Labour
Department of Labour and Workforce Development
Release Date:
Tuesday, 17 March 2015 - 12:15pm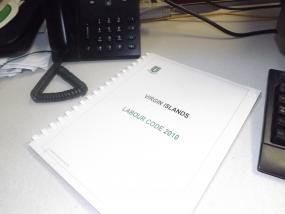 The Minimum Wage Advisory Committee mandated to investigate the working conditions of various professions and make recommendations to Government, will hold the first in a series of public meetings tomorrow.
Public meetings will be held on Tortola at the Sir Rupert Briercliffe Hall, on Wednesday, March 18 at 7:00 p.m. and on Virgin Gorda at the Catholic Community Centre on Wednesday March 25, at 6:00 p.m.
Permanent Secretary of the Ministry of Natural Resources and Labour, Ronald Smith-Berkeley said that he was pleased with the strides made by the committee and that he believes that its establishment will provide many answers to the questions surrounding the review of the basic minimum wage of the Virgin Islands.
Mr. Smith-Berkeley said, "The goal of the Ministry is to see a fair and responsible system for the social and economic advancement of people in the Territory. The Committee is entrusted greatly with maintaining and adding to this advancement. We expect a sound, all-encompassing report. "
Meanwhile, Chairman of the Committee, Simon Potter said that he anticipates discourse with the public so that the committee could carry out its duties in a timely manner.
Mr. Potter said, "I am honoured and delighted to be a part of this committee at this time in our Territory's history. I do believe a review of the minimum wage is necessary and I would like to encourage everyone, living and working in the BVI to come out and voice their concerns." He added, "We will do what we can to make adequate recommendations, but you have to represent yourself. People have to speak up and speak out for us to give a solid report."
The committee was formed in accordance with the Virgin Islands Labour Code 2010 Part 3, Section 38 (1) (e) and has been approved by Cabinet. It seeks to convene meetings under the motto; "This is the time. Let your voice be heard." For more information concerning the Minimum Wage Committee persons can telephone 468-4732.
The Ministry of Natural Resources and Labour strives to ensure that the supply of labour is commensurate with the level of development in all sectors of the economy.
Author