Ministry of Communications and Works
Fire and Rescue Service
Release Date:
Monday, 16 December 2019 - 1:28pm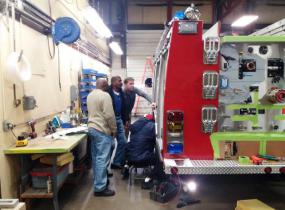 A new fire truck will soon be arriving in the Territory and will be stationed at the Fire Headquarters in Road Town to serve the areas between Sophie Bay and Pockwood Pond, and between Belle Vue and Windy Hill.
The Minister for Transportation, Works and Utilities Honourable Kye Rymer during the Seventh Sitting of the First Session of the Fourth House of Assembly on October 17, explained that the Government of the Virgin Islands remains committed to the upgrading and outfitting of all Fire Stations throughout the Territory.
On Tuesday December 3, Deputy Chief Fire Officer, Mr. William Penn, led a delegation from the Virgin Islands Fire and Rescue Service to meet with technicians of the W.S. Darley facilities in Chippewa Falls Wisconsin, to assess the progress of the nearly-completed Fire Appliance that had been recently purchased by the Government of the Virgin Islands.
The visit is in keeping with the 2020 Budget Address delivered by Premier and Minister of Finance, Honourable Andrew A. Fahie as the restoration of fire stations throughout the Territory continues.
Deputy Chief Fire Officer Penn said, "The fire appliance inspection component is an essential part of the overall process. As a team we were ensuring that the fire appliance, which is known by the public as a 'fire truck', is built to our agreed specifications. We also took the opportunity to identify any gaps, in terms of practical application, that needs addressing in ensuring that this appliance, and its capacity and capability, are in line with our standard operating procedures and our expectations."
Mr. Penn said, "Additionally, we also want to ensure the appliance does not pose any challenges to our officers and is fit for purpose, based on our unique working environment, which is vastly different to the environment in which it was manufactured. During this visit, we will try to identify and correct any previously unforeseen shortfalls to its practical use ahead of this most valuable and needed equipment being shipped."
The delegation also included Sub-Officer, Mr. Elvin Forbes and Station Officer, Mr. Joseph George. The team met with Darley, which comprised Mr. Peter Darley, the Chief Executive Officer; Mr. Jeff Darley, the Operations Manager; Mr. Troy Carothers, the Contract Administrator and Mr. Adam Ewings, the Logistics Manager.
The Fire Appliance is expected to be completed and shipped to the Virgin Islands in late January to early February, 2020.
Attached: Photograph of Deputy Chief Fire Officer, Mr. William Penn and delegation observing the fire appliance at W.S. Darley facility. (Photogragh/provided)
Author