Department of Trade, Investment, Promotion and Consumer Affairs
Release Date:
Friday, 12 June 2015 - 1:45pm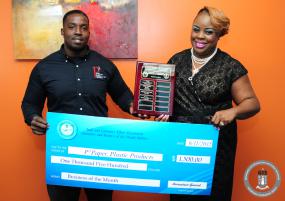 P3 Paper, Plastics, Products Inc. owned by Mr. Sinclair Flemming Jr. is the Department of Trade and Consumer Affairs June Business of the Month.
The announcement was made by the department in its continued efforts to promote and assist small businesses in the Territory.
The showcase, which was officially launched by the Department of Trade and Consumer Affairs on behalf of the Government of the Virgin Islands on March 3, continues to "fuel the entrepreneurial spirit" with this month's unwavering entrepreneur Mr. Sinclair Flemming Jr.
P3 Paper, Plastics, Products Inc., is a wholesale company that has been in operation for three years and specialises in disposable hotel, restaurant and office supplies. The company aims to satisfy its customers through competitive prices, extraordinary customer service and free delivery from Mondays to Fridays from 9:00 a.m. to 5:00 p.m.
Business owner, Mr. Sinclair Flemming Jr., captured the award with a criteria based on outstanding customer service, provision of unique products, and diligent community involvement.
Mr. Flemming Jr. stated that P3 Paper, Plastic, Products Inc. believes in helping local businesses in the form of excellent customer service and low prices. Customer satisfaction, he said, is their number one priority.
He stated, "You can't have a business without patrons; their needs are to be met holistically. I meet my customer service goals through fast and easy deliveries, low prices, product variation, ease of accessibility, and taking time to explain certain aspects to customers. Local businesses, whether big or small, depend on our company to distribute their products."
Director of the Department of Trade and Consumer Affairs, Mrs. Karia Christopher congratulated the business of the month winner and stated that Mr. Flemming Jr.'s business is making a significant stride in the local community.
Mrs. Christopher said, "There's no business that you walk into without seeing his brand and his products. He understands the importance of branding and providing quality customer service. A quality that is highly valued around the world."
The Trade and Consumer Affairs Director added, "We are very proud to have him as our June Business of the Month. I encourage businesses throughout the Virgin Islands, especially the sister islands of Anegada, Virgin Gorda and Jost Van Dyke, to take advantage of this opportunity to promote their business throughout the Territory."
As part of his winnings, Mr. Flemming Jr. will receive funds to further promote his business through the provision of free advertisements. Promotion includes a GIS interview with the business owner; sponsored commercials for the month via radio and television; a business profile on the Government's website and the online media; a profile on BVICCHA's website; one year's free membership with BVICCHA; and framed certificates.
For more information about P3 Paper, Plastic, Products Inc. telephone (284) 542-3331 or (284) 442-3331. Alternatively, persons can e-mail at plasticpro3@gmail.com, or visit their website at www.p3vi.com.
The Department of Trade and Consumer Affairs continues to support small businesses and encourages businesses in the Virgin Islands to supply, provide, and give back in order to become the next Business of the Month. Interested persons can log onto bvi.gov.vg for a nomination form, or visit the link provided.
Businesses can apply, or members of the public can nominate businesses or business persons by submitting a nomination form and an essay of at least 300 words stating why the nominee should be considered for the Business of the Month award.
Author