Governor's Group
Release Date:
Monday, 11 June 2018 - 5:58pm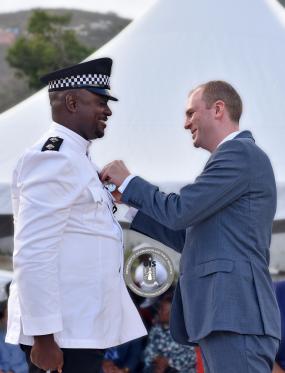 Officers from the Royal Virgin Islands Police Force and Her Majesty's Prison were recognised and presented with long service medals at the official celebration of the Birthday of Her Majesty the Queen.
His Excellency the Governor Augustus J. U. Jaspert presiding over his first Queen's Birthday celebrations locally on Saturday, June 9, inspected the parade accompanied by the Parade Commander, Superintendent Jacqueline Vanterpool and the Commissioner of Police, Mr. Michael Matthews.
The following officers received medals for their years of service;.
OVERSEAS TERRITORIES POLICE FORCES MEDAL FOR LONG SERVICE AND GOOD CONDUCT - 18 YEARS
Constable Daniel Ceasar
Constable Bruce Huggins
Constable Otis Martin
Constable Llewellyn Olliviere
Sergeant Kevin Joseph
Sergeant Vernon Larocque
FIRST CLASP TO THE OVERSEAS TERRITORIES POLICE FORCES MEDAL FOR LONG SERVICE AND GOOD CONDUCT – 25 YEARS
Constable Clyde Farrington
Acting Sergeant Steve George
Constable Rudolph David
Constable Elvis Richards
Constable Cyril Thomas
Constable Job Trumpet
Constable O'Carol Williams-Olliviere
Sergeant George James
Inspector John Rhymer
Sergeant Claude Rhymer
Chief Inspector Bill Johnney
Inspector Selwyn Rock
SECOND CLASP TO THE OVERSEAS TERRITORIES POLICE FORCES MEDAL FOR LONG SERVICE AND GOOD CONDUCT – 30 YEARS
Sergeant Kenneth Arthur
Sergeant Rawle Gibbons
Inspector Ivor Fraser
Superintendent Claudius Charles
FIRST CLASP TO THE OVERSEAS TERRITORIES PRISON SERVICE MEDAL FOR LONG SERVICE AND GOOD CONDUCT – 25 YEARS
Sergeant Seymour Phillip
Attached: Photographic highlights from the June 9th Queen's Birthday Celebrations. (Photo Credit: GIS/Franklyn Skerritt)
Author