Premier's Office
Ministry of Finance
Release Date:
Friday, 12 November 2021 - 2:17pm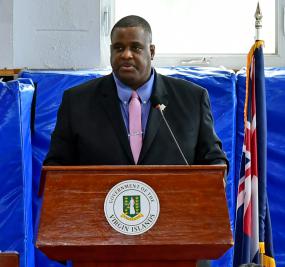 Premier and Minister of Finance, Honourable Andrew A. Fahie has delivered the Territory's 2022 Budget Address under the theme: "Strategically positioning New Industries with Sustainability and Innovation: Continuing to improve the standard of living with focus on Education, Small Business, Healthcare and Technology".
The budget was delivered during the Thirteenth Sitting of the Third Session of the Fourth House of Assembly on Thursday, November 11.
The Premier said that the Ministry of Finance estimates that Government revenues will total to $356.7 million; with $323.2 million coming from taxes and $33.5 million from other revenue sources.
Premier Fahie said, "The total budget this year is $397.17 million. This will comprise of $337 million for recurrent expenditure; $39.4 million for capital expenditure; $5.85 million in contributions to various statutory funds; and $14.96 million towards repayment of the principal on our debt."
He also added, "Capital expenditure of $39.4 million is being targeted. This will be funded by $8.8 million in loan funds from the Caribbean Development Bank Rehabilitation and Reconstruction Loan, and $9.1 million from the Consolidated Fund, $17.1 million from the Development Fund as well as $4.4 million from insurance proceeds."
The Premier outlined the breakdown of allocated funding per ministry. He noted that the Ministry of Natural Resources, Labour and Immigration will receive the largest share of recurrent allocations – $51.2 million or 14.3 percent. This he said is due to the reassignment of the National Health Insurance to this ministry as part of the Government's streamlining of systems.
The allocation to the Ministry of Health and Social Development is $34.2 million, 9.57 percent of the recurrent budget.
The Premier stated that the Ministry of Education, Culture, Youth Affairs, Fisheries and Agriculture will receive 13.68 percent, as the Government "heightens its emphasis on human capital development."
The Ministry of Transportation, Works and Utilities has been allocated 12.34 percent of the recurrent budget and the Premier cited the focus on construction projects to stimulate economic activity and the creation of jobs.
The allocation to the Ministry of Finance is 6.93 percent and 12.47 percent to the Premier's Office.
Meanwhile, the Governor's Group will receive some 12.08 percent of the recurrent budget with several major projects upcoming, such as the renovation of Government properties including the House of Assembly building.
The Premier said, "It should be noted that 37.17 percent of recurrent allocations will be for compensation of public officers, 24.8 percent will be for goods and services, and 5.52 percent for social benefits."
Persons can read the 2022 Budget Address in its entirety at bvi.gov.vg.
Author