Premier's Office
Ministry of Finance
Release Date:
Thursday, 18 November 2021 - 3:14pm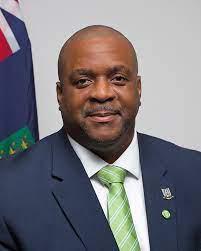 The Virgin Islands has experienced a noticeable increase in entrepreneurial activity during the past several months of the COVID-19 Global Pandemic, and can look forward to this trend continuing in 2022.
This was revealed by Premier and Minister of Finance Honourable Andrew A. Fahie, during the 2022 Budget Address in the House of Assembly on 11 November, 2021, at the Save the Seed Energy Centre in Duff's Bottom.
According to Premier Fahie, Government's revenues increased in 2021 in areas linked to business activity, including entrepreneurship.
He explained that Income and Payroll Tax, for example, increased by approximately $500,000 over 2020's revenue to $48.6 million; taxes on goods and services increased by $4.67 million to $210.3 million; and taxes on international trade rose by $3.69 million to $39.62 million. While revenues from money transfer fees are estimated at $2.315 million while customs fees brought in $350,000. Revenues from Trade Licences also increased to over $1 million in 2021.
"This is indeed an encouraging sign for our aspirations of growing our small business sector, even during this COVID-19 era. In other words, the entrepreneurial spirit in the Virgin Islands is highly stimulated, it's alive. History shows that the people of the Virgin Islands become stronger when faced with adversities," the Premier said.
According to Honourable Fahie, this improvement in economic activity in 2021 was not surprising since the Government had taken a number of deliberate steps to inject resources into the Virgin Islands economy and to keep money circulating through the system, so that businesses could survive the pandemic and provide a measure of income to their employees.
Premier Fahie also explained that through Government's COVID-19 Economic Stimulus Programme for farmers and fishermen – which utilised $5.1 million from a grant provided by the BVI Social Security Board, 201 farmers and 207 fisher folk to date were able to enhance their ability to produce food to service local demand and enhance the Virgin Islands' food security in the longer term.
"The results of this initiative can be seen in our supermarkets and at the regular farmers' markets. Additionally, the availability of locally caught fish is more prevalent than it has been for a very long time," the Premier said.
Premier who is also the Minister of Finance explained that Government also injected resources into the economy by advancing the roll-out of a number of public sector capital projects.
Town and Country Planning Department data shows construction imports grew by 98.8 percent in the first half of 2021 - to $51.98 million, compared to the first half of 2020. Increased economic activity was also noted in the mining and quarrying, construction, and transportation and storage, due largely to public and private sector capital projects.
"The combination of these two measures — the grant and the capital projects — resulted in a vitamin boost for economic activity across many sectors leading to a 2.2 percent upward revision of the projection for the overall growth in 2021 over 2020, compared to the 7.5 percent contraction that was first forecasted," the Premier said.
Honourable Fahie said that in 2022, additional opportunities for entrepreneurship and job creation will flow as the Virgin Islands tourism sector continues to reopen through the return of cruise lines and the relaxing of travel restrictions and protocols. Additionally, entrepeneurship and job creation will flow as Government continues to implement initiatives for e-Government, the development of the Green, Blue and Digital economies, and capital projects such as the rebuilding and rehabilitation of schools and ferry terminals, among others.
Premier urged residents to be alert and to prepare and position themselves to capture these employment and business opportunities as they emerge.
He added that the Government of the Virgin Islands will continue to partner with stakeholders to equip residents for these opportunities, as it has been doing through, for example, the solar installing and maintenance training programme and the marine training programme. The Department of Youth Affairs and Sports is working on Public-Private Partnerships to create entrepreneurship programmes for youths by June 2022. Funds have already been allocated for this in the 2022 Budget, the Premier said.
The theme of the 2022 Budget Address is: "Strategically positioning New Industries with Sustainability and Innovation: Continuing to improve the standard of living with focus on Education, Small Business, Healthcare and Technology.
Author