Premier's Office
Release Date:
Monday, 23 January 2023 - 1:06pm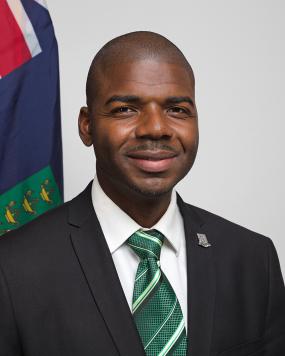 STATEMENT BY PREMIER AND MINISTER OF FINANCE
DR. THE HONOURABLE NATALIO D. WHEATLEY
ONE-ON-ONE PRESS BRIEFING
WITH UPDATES ON HIS RECENT OFFICIAL VISIT TO THE UNITED KINGDOM
JANUARY 23, 2023
Members of the Press Corps
Ladies and gentlemen
People of the Virgin Islands
A pleasant good morning. I am pleased to have another press conference to keep the public informed. My update today is on my official visit to the United Kingdom which concluded yesterday.
First, however, I would like to extend my deepest condolences to the families of the two men, Vincent Huggins and Seddy Callwood, who lost their lives, as well as the wider Jost Van Dyke community.
I know that you are hurting right now, and I pray that God will ease your pain in time. I want to encourage everyone to be as vigilant as possible when driving on our roads. Let us pray that we do not see more car accidents and loss of life in our beloved Virgin Islands.
Turning to my official visit to the UK, I am pleased to report that my delegation and I had a successful week of meetings and engagements to advance the economic, political and environmental interests of the Territory.
Let me say at the outset that I initiated this visit. I was not asked to come to London by the new Overseas Territories Minister Lord Goldsmith. In fact, I requested the meeting with Lord Goldsmith, because it is important that the Virgin Island and United Kingdom remain politically engaged on various issues of interest and concern to us. That is what is means to be in a mature partnership. You talk and engage.
I was very pleased to have a bilateral meeting with Lord Goldsmith. Our discussion was constructive, warm and frank. I very much appreciated his great interest in the sustainable development of the BVI. He was very keen on tapping UK support to assist the BVI's efforts to both conserve and sustainably use the marine environment. He also pledged to provide as much UK technical assistance as possible to assist us with continuing the work of reform.
I did raise the concern about the Order in Council currently being held in reserve. The Minister agreed that we would have a dedicated discussion on this in the very near future. While that issue needs to be resolved, I felt Lord Goldsmith was genuine about wanting a stronger partnership between the UK and BVI that fairly considers the interests of both sides. I am aware that he will travel to the Territory in a few weeks' time and I look forward to seeing him again.
I was also very pleased that the UK Foreign, Commonwealth and Development Office and UK Home Office had very good discussions with my delegation on medicinal cannabis, particularly with respect to the licencing of medical practitioners in the Virgin Islands to administer medicinal cannabis to patients. We have found a way forward on this aspect of medicinal cannabis, and are proceeding to put the necessary regime in place for approvals. I am grateful to the UK Government for their support in this area.
In terms of the UK Parliament, we had very successful engagement with UK Parliamentarians. A reception at parliament was graciously hosted by Mr. James Sunderland MP, who serves as the Chair of the BVI All Party Parliamentary Group. My delegation and I interacted with many parliamentarians who have a very keen interest in the BVI. Many of them genuinely want to see the UK be as supportive as possible to the Overseas Territories. I got very good insight and advice on issues of interest to us, and I believe we are making progress in improving the view of the Virgin Islands in that political institution.
I also had a very good bilateral meeting with the Shadow Overseas Territories Minister Mr. Stephen Doughty. He explained the views of the Labour Party on the Overseas Territories. I gave him a clear understanding of the Virgin Islands' economic, political and environmental priorities. He pledged to take these into account in future debates in the House of Commons and in discussions within the Labour Party.
Of course, I was very pleased to have a bilateral meeting with the Speaker of the House of Commons The Honourable Lindsay Hoyle. The Speaker is a champion of the Virgin Islands and Overseas Territories and was very gracious with his time. We had an excellent discussion on how the Register of Interests works in the UK Parliament. He also provided other very helpful insights that I will discuss with my colleagues in the House of Assembly.
On the economic front, my delegation and I had a very productive roundtable discussion with the financial services industry in the UK. The industry was represented by those firms who also operate out of the Virgin Islands. We were able to update them on legislative developments and plans for the year ahead. The feedback was very good, and together we are committed to ensuring the jurisdiction remains competitive.
I also attended a business roundtable with the Caribbean Council to gauge interests in investment in the Virgin Islands in the tourism sector and our airport expansion. I was also able to talk with some of our existing suppliers of certain goods and services. There is keen interest in the Virgin Islands economy and an appetite to invest. My team will be following up with our business partners and those with an interest in investing to help my move our economy forward.
In terms of environmental partnerships, I had an excellent visit to Southampton where I signed a Memorandum of Understanding between the University of Southampton and the Virgin Islands. This is an excellent partnership that will assist the Virgin Islands in researching and documenting our environment and finding solutions to problems such as climate change. The blue economy will also be a major focus.
I also attended a meeting with one of our existing partners: the National Oceanographic Center. They presented to me the progress being made on their work in mapping our marine environment. We will soon better know what these assets are, and how they can be leveraged to help address the climate problem, particularly using carbon markets that will be beneficial to us in the Virgin Islands.
In terms of our educational and cultural cooperation, my delegation and I also visited Hertfordshire County Council, with whom we also have an MOU. We discussed cultural and academic exchange, and cooperation in relation to tourism. We will be following up on this very soon.
Regarding engagement with Virgin Islanders in the UK, I was very happy to virtually engage with our students and citizens who attended a townhall and luncheon at BVI House. Fortunately, Permanent Secretary Mrs. Carolyn Stoutt-Igwe and I were able to participate once our hotel in Antigua and Barbuda was available. We were unable to travel to London due to technical difficulties with our flight that grounded the plane. I listened to the students concerns and responded to them, and also updated them on matters at home. I was very pleased that by the end of the townhall, three students had been paired with Government agencies for summer internships.
Finally, it was my pleasure to celebrate the 20th anniversary of the BVI London Office at the annual Premier's reception. Many of our friends and supporters were present for the occasion, as well as members of the diplomatic corps in London.
I would like to thank my entire delegation and BVI London Office for their support in making my official visit a success.
I am happy to take any questions you may have.