Premier's Office
Release Date:
Tuesday, 18 April 2023 - 4:32pm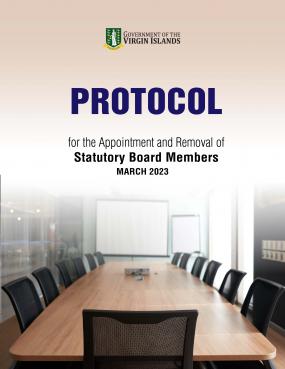 Ministries across the Government of the Virgin Islands have commenced implementation of the 'Protocol for the Appointment and Removal of Statutory Board Members'.
Recommendation B28 in the Framework for the Implementation of the Commission of Inquiry Recommendations required the Government to publish the protocol that was approved by Cabinet on February 22 and tabled in the House of Assembly on April 17 among other reports completed as a result of recommendations from the Commission of Inquiry.
Permanent Secretary in the Premier's Office, Mrs. Carolyn Stoutt Igwe stated that since late last year, the ministries have been adhering to the provisions of the Protocol in terms of advertising vacancies for various Boards, conducting interviews and making recommendations to Cabinet through the respective ministries.
Mrs. Stoutt Igwe, in highlighting some of the provisions of the Protocol, mentioned the timetable for filling vacancies; the assessment process; interests and conflicts; removal of Board members; induction and training; annual Board reviews and the creation of a database for Statutory Boards.
The Permanent Secretary said there are other aspects of the protocol that would have to be implemented and that she believed that it is a step in the right direction in ensuring transparency in how Board members are appointed and removed.
"Various legislations will now have to be reviewed to strengthen existing provisions for appointments and removal of Board members," Mrs. Stoutt Igwe said.
A Statutory Board, as defined in the Interpretation Act (Cap 136) means "any Board, commission, committee, council or other like body established by, or under an enactment."
Appointments to these boards are made by the Governor or Cabinet Ministers in accordance with their portfolio responsibilities, guided by the provisions of relevant legislation.
The Premier's Office is in the process of developing an action plan for the full implementation of the Protocol which includes conducting training sessions with the relevant stakeholders.
Author