Premier's Office
Ministry of Natural Resources and Labour
Release Date:
Friday, 5 April 2019 - 1:38pm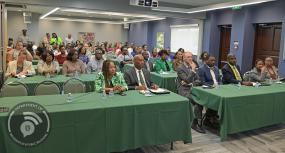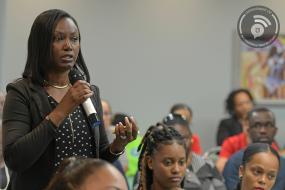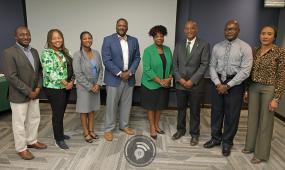 The testing phase of the Government's Work Permit Prototype-Online System was said to be well received following the soft launch on approximately 32 cross-sectoral companies registered in the Virgin Islands on April 4.
Operations Manager for Tico, Mr. Phil Aspinall said that while the programme is long overdue, it was a great presentation filled with excellent information.
He said, "The system is going to be driven by the user rather than the provider and that's excellent news for us."
Mr. Aspinall added, "When we come out on the other side, the BVI Government will be a better place and it will be easier for the employers to get their employees employed in a timely manner."
Director for Metro Construction, Mrs. Julia Marshall said that she looks forward to the process coming on stream.
"As a company that has had to process hundreds of work permits within the last 18 months, I look forward to it happening," Mrs. Marshall added.
Meanwhile, Premier and Minister of Finance, Honourable Andrew A. Fahie said that in this new digital age, a good government is an accessible government that provides access to pertinent information: faster, cheaper, transparently and more efficiently.
Premier Fahie said, "The Work Permit Prototype-Online System is being developed using an Agile Approach. This means we have built a prototype for the testing phase of the electronic processing of new work permit applications and are requiring interfacing by various businesses and companies throughout the Territory to help us develop the system to make it work for them."
Following the soft launch, the selected companies will be divided according to their respective groupings to initiate the alpha phase of the Work Permit Prototype-Online System.
This phase will require the selected cross-sectoral companies and businesses to have the system tested and refined. They will also be able to use the prototype system to upload new work permit applications and required information and documents such as passport pages, medical and police records to the system.
Digital Transformation consultant in the Premier's Office and owner of Januvation Solutions, Dr. Terrence Frater said, "As we roll out different iterations, we will be adding features and functionalities to the system. By the end of the prototype testing period, there is expected to be an adequate amount of data that will be collected to enable the system to be finalised before being launched to the wider public."
The Digital Transformation/E-Government Project is being led by the Premier's Office and is a component of the Public Service Transformation initiative.
Attached:
Audio Recording from Operations Manager for Tico, Mr. Phil Aspinall
Audio Recording from Director for Metro Construction, Mrs. Julia Marshall
Photo capture of the soft launch of the Government's Work Permit Prototype-Online System. (Photo Credit: Ronnielle Frazer/GIS)
Representative from the St. Georges' School during the soft launch.
From left to right: Digital Transformation consultant in the Premier's Office and owner of Januvation Solutions, Dr. Terrence Frater; Junior Minister for Tourism,
Honourable Shereen Flax-Charles; Acting Permanent Secretary in the Premier's Office, Mrs. Elvia Smith-Maduro; Deputy Governor, Mr. David D. Archer; Labour Commissioner, Ms. Janice Rhymer; Minister for Natural Resources and Labour, Hon. Vincent Wheatley; Permanent Secretary in the Ministry of Natural Resources and Labour, Mr. Ronald Smith-Berkeley; and Deputy Chief Immigration Office, Ms. Rosemary Callwood. (Photo Credit: Ronnielle Frazer/GIS)
https://bvi.gov.vg/sites/default/files/156_-_phil_espinall_statement_during_the_soft_launch.mp3
https://bvi.gov.vg/sites/default/files/156_-_julia_marshall_statement_during_the_soft_launch.mp3
Author