Department of Agriculture and Fisheries
Release Date:
Tuesday, 13 September 2016 - 5:18pm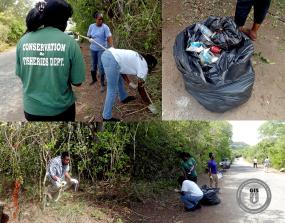 The public is encouraged to keep the beaches and coastlines of the Virgin Islands clean by supporting the 2016 International Coastal Clean-Up activities, sponsored this year by the Conservation and Fisheries Department and the British Virgin Islands Tourist Board.
On September 17, members of service organisations and all persons interested in maintaining a clean BVI are encouraged to participate in a cleanup at Little Mountain, (the first left after the Beef Island Bridge) Beef Island starting at 7:00 a.m.
Coordinator of this exercise, Environmental Education Officer, Mrs. Cynara Duncan said that participation has always been high for this activity and that she was very pleased with the response shown thus far and is hoping that more persons take up the mantle to keep BVI shores free from garbage and debris.
"Keeping our Territory clean is as important as keeping our own houses and backyards clean," Mrs. Duncan pointed out.
The Coordinator added, "We are facing so many challenges that result from litter and clutter, including increased mosquito breeding and disease. The piece of garbage that you pick up today could be the piece that prevents you or a family member from getting sick. The message is simple and easy and this is something everyone can do. Get up and get moving!"
Mrs. Duncan is encouraging volunteers to contact the Conservation and Fisheries Department to register groups and to collect helpful recording cards that generate much needed data that is derived from the international clean up initiatives. The department will also provide gloves and bags for volunteers.
Director of Tourism, Mrs. Sharon Flax-Brutus said that each one of us plays an integral role in keeping the British Virgin Islands clean.
She added, "As a tourism destination we need to preserve the beauty of our islands and cays through ongoing cleanup projects within each community. We are renowned around the world for having some of the most beautiful beaches in the world, it is therefore essential for us to maintain our seas, roadways, and parks with reinforced community-wide efforts, which also strengthen our unity of One BVI."
In addition to the Saturday clean up being hosted on Tortola, the BVI Tourist Board is sponsoring additional clean up campaigns on all of the main islands: Anegada, September 17, at 6:30 a.m. at the Anegada Administration building; and Jost Van Dyke, September 17, at 9:30 a.m. at the Ferry Dock at Dog Hole, Great Harbour.
The BVI Tourist Board has already sponsored cleanups on September 10 on Virgin Gorda, at 7:00 a.m. in the Valley and at Gun Creek, North Sound.
Ocean Conservancy based in Washington, DC, is the official sponsor of the International Coastal Cleanup, which analyses and compiles the information into an annual report that gives specific information for each participating country or territory. Local policy makers are encouraged to use this report to develop solutions for problems caused by marine debris and to raise awareness among the general public of waste and environmental issues.
Recent International Coastal Cleanups in the Virgin Islands included large numbers of items collected along the shoreline. In 2015, beverage bottles topped the list of items collected in the Territory with over 2,404 plastic and 1,015 glass bottles.
The International Coastal Cleanup is a 100 percent volunteer programme that encourages participants to spend a few hours cleaning a local beach, waterway, or coastline by removing trash and unwanted debris from these areas.
The Conservation and Fisheries Department supports and promotes the International Coastal Cleanup initiative and is committed to protecting the Territory's coastal environments and ocean life.
Author