Ministry of Health & Social Development
Adina Donovan Home for the Elderly
Release Date:
Tuesday, 10 February 2015 - 4:30pm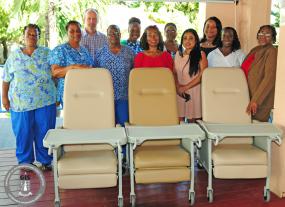 Residents at the Adina Donovan Home can recline in comfort after receiving three recliners donated by Caribbean Insurers Limited (CIL) and Real Legacy Trust.
Officials from Caribbean Insurers Ltd, and Real Legacy Trust visited Adina Donovan Home last week and officially hand-over the much needed items. This acquisition is a part of on-going efforts to upgrade the ambience and standard of the institution which provides a 24hour residential full-service care to over twenty senior citizens in the community.
Mr. Chris Chippendale of CIL and Real Legacy Trust, made the donation in honour of his father, the late Keith Chippendale, a former Director of the company, and long-time resident of the BVI.
Mr. Chippendale recalled the challenges of having to cope with his father's illness during his later years, as an Alzheimer's patient. He said He said he was sympathetic to the challenges faced at the nursing home facility which also has a few cases of the degenerative disease, among the resident population.
Acting Manager of the Home Mrs. Crystal Vanterpool-Williams expressed appreciation for the gifts and stated that the Home has a great partnership with businesses throughout the community. She encouraged the staff of CIL and other organizations to partner further with the Adina Donovan Home to help improve the lives of its residents.
Nursing Supervisor, Sister Emerald Pemberton blessed the new recliners and prayed that they would add to the level of comfort for the residents.
The Adina Donovan Home continues to ensure an optimum quality of life for all residents by providing an environment that caters to their unique spiritual, emotional, physical and mental well-being.
Author