Office of the Governor
Release Date:
Thursday, 23 July 2015 - 4:30pm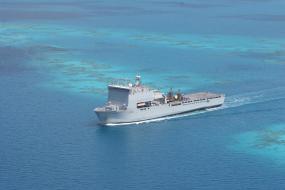 The Royal Fleet Auxiliary (RFA) Ship LYME BAY will pay a three-day visit to the Virgin Islands beginning on Sunday, July 26.
During LYME BAY's visit, the Commanding Officer Captain Paul Minter RFA, will pay courtesy calls on His Excellency the Governor John S. Duncan, OBE, Premier and Minister of Finance Dr. the Honourable D. Orlando Smith, OBE, Commissioner of Police Mr. David Morris and Director of Disaster Management Ms. Sharleen DaBreo.
A major part of the visit will focus on contingency planning between Territory officials and the ship's teams. In addition, the ship's company will assist in a community project and their football team is seeking to play a match against a home team.
A Royal Navy Lynx Mk8 helicopter is onboard for the deployment to conduct counter narcotics operations (when the Ship is at sea) and provide an airborne asset for surveillance, store delivery and search and rescue tasking if required. The Lynx will take part in a search and rescue exercise on Anegada as part of its visit.
Captain Minter said "My Ship's Company and I are very much looking forward to the visit and to making and remaking relationships whilst being able to liaise with Disaster Management authorities regarding our capabilities."
The Operations Officer, First Officer Chris Ovens explained: "Any visit takes a lot of planning from the ship, our hosts and the Defence Attaché. We hope to achieve everything expected of us and more in our short stay in Tortola."
The RFA Lyme Bay is currently on duty as part of the Royal Navy's Atlantic Patrol Task (North). Her primary role is to provide support to the United Kingdom Overseas Territories to reinforce the UK Government's commitment to the region.
Author