Central Statistics Office
Ministry of Health & Social Development
Release Date:
Wednesday, 5 February 2020 - 4:57pm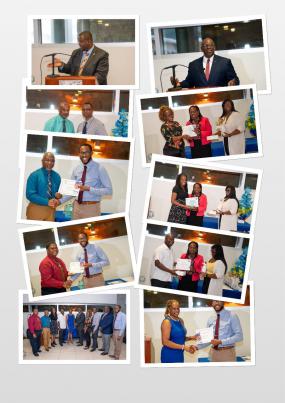 Six Advanced Emergency Medical Technicians (AEMTs) have been added to the arsenal of emergency care, as the BVI Health Services continue its quest to deliver top-notch health care services.
Technicians Burton Richardson, Curdalia Guishard, Eric Thompson, Jacinda Ettienne, Rudolph Lewis and Shenelle Williams were trained in a four month Advanced EMT Course based on U.S. and U.K. standards. The training was delivered through a joint collaboration between the BVI Health Services Authority and the H. Lavity Stoutt Community College (HLSCC).
The successful technicians were all honoured during a graduation ceremony which took place on Friday, January 31.
Premier and Minister of Finance, Honourable Andrew A. Fahie while addressing the successful technicians stated that there was no substitute for capacity building. The Premier said, "Now that you have been trained, we now have a cadre of persons with advanced skills to bring hope on a scene of despair. All of you are advanced in your training and you will be able to save more lives. That is the power of capacity building. We are in better hands because you have decided to elevate yourself."
Minister for Health and Social Development, Honourable Carvin Malone spoke of the synergy between the 911 Emergency Centre and its impact on emergency response. He assured the new Advanced EMTs that Government is urgently working to ensure that the system is to full capacity which will also contribute to adequate response times and overall patient outcomes.
Acting President of HLSCC, Dr. Richard Georges highlighted the importance of the collaboration between the college and the BVIHSA. "What we are seeing today is the manifestation of where the Territory needs to be heading," he said, adding, "When we start to become more conversant and start to align our mission goals and visions and our obligation to the Territory, we discover a lot more can be done working together; there is no need to need to do it alone."
Meanwhile, Chief Executive Officer of the BVI Health Services Authority, Dr. Ronald Georges called for a continuation of the partnership and for the offering of similar courses to all First Responders. "We have to grow Emergency Medical Services and pre-hospital care," Dr. Georges said. "That "Golden Hour" of getting patients to definitive care is essential to their survival. That is why we have to ensure that this partnership with the college is continued and extended to the Virgin Islands Fire and Rescue Service and other first responce services," the CEO further added.
Meanwhile, Medical Director for Emergency Management Services, Dr. Domnick Frazer said the addition of the trained technicians is a big step towards enhancing the quality of care in the pre-hospital setting, as they are now equipped with advanced skills to assess and intervene with the support of medical direction from a physician.
"They will now be able to start IV access, administer drugs and provide advanced airway support which will give patients a higher level of care and decrease pre-hospital morbidity and mortality rates," Dr. Frazer explained.
The Advance EMT course was a four month course which saw the technicians receiving training for three hours, three days a week. The training was comprised of clinical rotations, exams, research papers and a final exam administered by an external agency.
The Advance EMT Course was certified by the Caribbean Association of Fire Chiefs of which Emergency Disaster Management Coordinator, Mr. Rodney Brathwaite and Dr. Domnick Frazer are certified assessors.
BVI Health Services Authority is committed to delivering excellent compassionate client centered healthcare.