Ministry of Natural Resources and Labour
Release Date:
Wednesday, 16 February 2022 - 4:41pm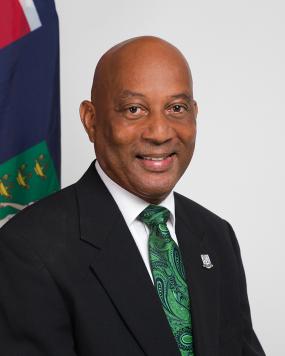 Minister for Natural Resources, Labour and Immigration, Honourable Vincent O. Wheatley said that efforts are in full effect to bring a prompt solution to the existing backlog at the Department of Labour and Workforce Development.
A virtual stakeholders meeting was held on Thursday, February 10 where the Government representatives and members of the private sector came together to speak about existing issues contributing to the backlog as well as discussions on possible solutions.
Honourable Wheatley stated that although there are challenges, the ultimate goal is to make business with the private sector easier and more efficient.
He said, "Over the last weeks, I have heard the many concerns about work permit issues, and we thought it best to come together in a forum such as this to find the best solution forward. I want to commend business owners who have understood the vision and have also made their contribution to address some of the concerns. Remember that we are in this together and we want the same things you want, which is to find an amicable solution and a sustainable system."
Meanwhile Acting Labour Commissioner, Mrs. Michelle Mc Lean shared a report highlighting the number of work permits which have been processed since July 12, 2021 when the Online Work Permit System was activated.
According to the Acting Labour Commissioner, the Department received 5,466 work permit applications, with 3,546 being renewal applications. From the total number of renewals, 2,005 have been processed.
A total number of 1,573 new applications were submitted and approximately 1,050 were processed. Additionally, 347 entertainments, emergency and temporary work permit applications were also processed.
Mrs. McLean said, "I am confident that with a few additional staff, and by tweaking the existing Online Work Permit System, the backlog will undoubtedly be significantly diminished in a few months. In the meantime, we at the Department of Labour and Workforce Development continue to work tirelessly to process the work permits as we strive to meet the needs of our clients."
The Department of Labour and Workforce Development continues to promote good labour practices at workplaces to ensure stable and harmonious labour relations between employers and employees, and to protect the rights, wages, working conditions, safety, health and welfare of workers through enforcement of the British Virgin Islands Labour Laws.
Notes:
Photo 1 of 2: Official photo of Minister for Natural Resources, Labour and Immigration, Honourable Vincent O. Wheatley
Photo 2 of 2: Official photo of Ag. Labour Commissioner, Mrs. Michelle Mc Lean
Author