Ministry of Natural Resources and Labour
Department of Labour and Workforce Development
Release Date:
Sunday, 3 May 2020 - 5:35pm
STATEMENT BY THE HONOURABLE VINCENT WHEATLEY
MINISTER FOR NATURAL RESOURCES, LABOUR & IMMIGRATION
ON THE DEPARTMENT OF LABOUR & WORKFORCE DEVELOPMENT
AND IMMIGRATION DEPARTMENT
, , 2020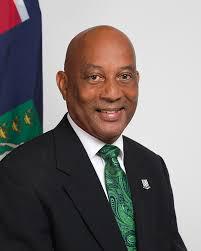 Good day to the people of these beautiful Virgin Islands.
I greet you in the midst of this global Pandemic which has taken us into what the Premier has termed the "New Regular" where we have to adapt, live and work with COVID-19.
Today, I make this statement as the Minister for responsible for Labour and Immigration matters.
My objective is to bring information and clarity to you, the people and business of the Territory.
I will be touching on several topics, which I will announce, before expanding on. My first topic is :
Employment – Lay-off & Termination
As a reminder, COVID-19 has brought about changes in our way of life, which many of us never thought would happen.
This is the same reality for many governments and people around the world who are reeling from the effects of this coronavirus.
The 'New Regular' in the BVI means that social distancing, standing six feet apart from each other will be a way of life for the foreseeable future and hence the way we do business must change.
Operating in the "New Regular" has changed the face of employment and how we will do business, not only here in the Virgin Islands, but across the globe.
Officers from both the Department of Labour and Workforce Development and the Immigration Department are now part of the Ministry of Health's Business Inspection Taskforce, and have begun inspections to allow business to be able to resume operation during the soft curfew.
This is expected to continue throughout the entire phased reopening of the BVI.
However, we are mindful that a number of job functions are on hold as employers try to work out the details to accommodate the "New Regular" and in many cases persons have had to be laid off.
This should be reported to the Department of Labour & Workforce Development where an employer will receive further instructions on the way forward.
I would like to remind employers
during the lay-off period employee bonds with the Immigration Department remain active and therefore these employees remain your responsibility.
In true BVILove it would be my hope that you continue to correspond and work on ways in which they can return into your full employ.
Statistics – Lay-Off/Termination
Let us talk about the statics that is needed as we assess those who have been laid-off or terminated.
To date, approximately 77 Businesses have contacted the Department of Labour and Workforce Development.
of these have reported closure, and have reported laid off; some persons have been reassigned or reclassified as it relates to position and/or salary, and persons have been terminated throughout the Territory.
As you would imagine, like the rest of the world, the Tourism industry is the hardest hit at this time. With the tourism industry being one of our most important economic pillars which accounts for a large cross section of workers in the Territory, any loss in the industry is not only difficult for that sector, but for the economy in general.
As Minister responsible for Labour, I am aware of the economic burden the COVID-19 Pandemic has brought to our shores.
However, I would like to appeal to businesses to submit your information to the Department of Labour and Workforce Development to assist with the accuracy of our assessed.
Premier and Minister of Finance, Hon. Andrew A. Fahie, has previously stated that an Economic and Fiscal Taskforce has been set up and charged with developing a policy to guide the BVI's COVID-19 stimulus initiatives, which would benefit businesses and employees.
The Premier and Minister of Finance has already announced that Cabinet has approved the template of the economic stimulus plan. The details of stimulus plan will be made public very soon by the Premier.
In the interim, I want to remind business owners and employees that your ability to report your business and employment status to the Department of Labour & Workforce Development and the Immigration Department will assist the Government in making sure the stimulus plan takes you who have been affected into account.
Such data is critical to our decision making as a Government. So we need you to be active participants in this process.
Lay-off Period
As Government continues to meet to make decisions that will benefit all persons residing in the BVI, we have recognised that the Labour Code, 2010 Section 104(3) and 107 speaks to - if an employee is laid off for more than three months without a date of re-employment, this person is entitled to severance pay if terminated.
In times of disaster, and in this case a Pandemic, there should be legislation to address the specific national situation, which we realise is lacking at this time.
The great burden on businesses to identify the necessary funding for severance, and on employees to seek alternative employment where applicable, is evident.
In light of this and in an effort to aid in the continuation of employment where practicable, especially for the tourism industry, Cabinet right now, amendment to the Labour Code 2010 to address an increase to the lay-off period.
People of the Virgin Islands, this, though a small step in allowing ease of employment and increased diversification of the Department of Labour and Workforce Development, s a step in the right direction to aiding our people when they need it the most.
The Immigration Department will work hand in hand with the Department of Labour and Workforce Development to allow for the smooth processing of qualifying businesses and employees once the relevant information is received and all qualifying criteria are met.
Disputes
Let's talk about disputes.
Although, the parameters for lay-off and termination has been set, we recognise that there may be employees who may feel that they were not handled in an appropriate manner, and these matters should be heard and addressed.
The Department of Labour and Workforce Development's Disputes Unit is here to better serve you, the workers of the Virgin Islands.
If you need assistance with a dispute please email labour@gov.vg so that an appointment can be set for your teleconference meeting with a Dispute Officer within the department.
Work Permits
I would like to take this time to comfort work permit holders who are currently categorised as inactive due to an expired entry permit and work permit.
The Immigration Department and the Department of Labour and Workforce Development will not penalise anyone who work permit expired during the mandatory lock down period.
Both departments will work together to regularise these persons once they have not been terminated by their employer.
Furthermore, persons who have been laid off should make an appointment to visit the Immigration Department so that you may be given the necessary extensions to make sure you are legally residing during this period.
Suspended issuance of Work Permits & Issuance of Additional Clearances
As the public has been made aware, the Borders of the Virgin Islands have been closed until June 2020 at which time a phased opening will be initiated to only receive BVIslanders, Belongers and persons holding Certificates of Residence for the BVI.
In addition to this, Government has also suspended the acceptance and issuance of New Work Permit, Temporary Work Permit and Periodic Work Permit applications until 31st July, 2020.
However, we will continue to accept and process Change of Employer and Change of Position Work Permits for persons already residing in the BVI.
Cabinet has also suspended the issuance of joint clearances for persons with approved work permits.
Additionally, I am mindful of persons who may have received clearances prior to the restriction of travel and full lock down of the Territory and have received Cabinet's approval to extend the internal policy as it relates to the issuance of clearances.
Therefore, the Immigration and Labour and Workforce Development Departments can now issue a maximum of two (2) re-issuances of Work Permit Clearances for any person in possession of a valid clearance who was unable to travel due to the COVID-19 Pandemic and the subsequent airport closures and restrictions on travel.
This would allow an intended employee to have a total of up to nine (9) months before the Work Permit becomes invalid.
Conditional Permits
Persons residing in the BVI who have been terminated and would like to seek alternative employment will have the option to apply to the Acting Chief Immigration Officer for the option to receive a Conditional Permit under Section 31(1)(c) and 31(1A) of the Immigration and Passport (Amendment) Act, 2016, which will allow a qualifying person (persons residing for a period of five years, and not having a previous Conditional Permit within the last three (3) years) to remain in the BVI while seeking employment for a period of three (3) months.
However, we are mindful that not all employees who have been terminated will qualify for such a permit.
I am also cognisant that this may call for some NON-BVI employees to leave the Territory if no viable job opportunities are readily available to them.
I however want to state that while we know that other jurisdictions are already asking persons on work permits and not currently working, to leave during this time, the BVI does not see the need for this action at this time.
We will continue to assist you, our brothers and sisters of the wider Caribbean, mainland US, Europe and other parts of the world, during this time of transition.
I am also working with my team to give assistance to workers who may want to return to these beautiful Virgin Islands to reestablish your healthy contributions to our economy.
Visitors – Expired Landing Permits
The closure of ports across the Territory was a significant move in the Government's fight against the introduction and spread of COVID-19 to the BVI.
This however, restricted the outward travel of visitors who were within our borders experiencing Natures Little Secret.
I would again like to notify the visiting public who would all now have invalid or expired landing permits that they will not be penalised, as this was a matter beyond your control.
However, the Immigration Department does understand the need for this to be regularized. Understanding the urgency to regularise our visitors, as well as to prepare them for departure, the Immigration Department will dedicate its time during the week of May 4 to these persons.
Beginning Friday, May, 1 2020 these persons will receive contact from the Immigration Department to reschedule appointments for the coming week.
However, if there are persons who had not previously contacted the Immigration Department you can do so at immigrationinfo@gov.vg (repeat) to secure your appointment.
I would like to thank these visitors who have become temporary residents due to our measures to safeguard our Territory.
I would also like to thank you for your patience during this time, as we aim to process you quickly but most importantly safely.
Department Schedules/Operations
The Ministry of Labour and Immigration along with the Immigration and Labour and Workforce Development Departments are cognisant of the many outstanding matters that would need our urgent attention at this time.
However, it is important that you the general public adhere to the scheduled days and times for visiting these departments, and more importantly we expect that persons adhere to the social distancing requirements of each department by making appointments.
To make appointments with the Immigration Department please call 468-4703/4705/4752 or 468-9639 on Tortola and 468-6520/6521 or 468-6606 on Virgin Gorda (repeat). To make appointments with the Department of Labour and Workforce Development please call 468-4708/4707 on Tortola and 468- 6525 on Virgin Gorda (repeat).
To better serve you, while maintaining physical/social distancing and safer operations both departments have initiated a joint schedule for seamless transition for persons needing services from both departments, beginning at 8:00am and ending at 12:30pm daily.
The schedules will be submitted by each department to allow for your safety to be maintained. Please adhere to these notices when published.
Suspension of Orientation Sessions
As we have reorganised our services, we also want businesses to note that all orientation sessions for employers and employees within the Immigration Department and the Department of Labour and Workforce Development have been suspended until further notice.
To aid employers and employees with the requirements and rules of both departments hand-outs and the use of technology will be utilised.
I would like to reiterate that the "New Regular" of no walk-in customers will be the mode of operation at this time and all persons are required to make appointments by phone prior to visiting these departments for any service.
Again, the contact numbers to make appointments with the Immigration Department are 468-4703/4705/4752 or 468-9639 on Tortola and 468-6520/6521 or 468-6606 on Virgin Gorda (repeat).
To make appointments with the Department of Labour and Workforce Development please call 468-4708/4707 on Tortola and 468- 6525 on Virgin Gorda (repeat).
On December 2nd 2019 the Government of the Virgin Islands signed a contract with Canada Bank Note (CBN) for the development of a Border Management & eVisa System to be used by both the Immigration Department & Civil Registry & Passport Office to better track the movement of persons through BVI Borders as well as to digitize the visa issuing system.
In January CBN visited to host Phase I project kick-off sessions, and the team proceeded to be ahead of schedule. Phase I should have been completed and launched by 8 May, however due to the ongoing COVID-19 Pandemic and travel restrictions the team was unable to install and commission equipment necessary for the use of the system.
Nevertheless, the project team is forging ahead with works on areas within other Phases of the project, allowing it to be advanced and ready to launch immediately following the lift on travel restrictions.
Work Permit Online System
The Department of Labour & Workforce Development and the Immigration Department have been working tirelessly and are well advance in their ability to launch the work permit online system prior to the COVID-19 Pandemic.
At which time the departments were awaiting approval by the House of Assembly for the suite of legislation to allow for online document collection and payment transactions to take place. Once these are passed the Department of Labour & Workforce Development would be able to launch the system for use by their clients.
As Minister, I am keen on having this system put into place as it will aid greatly in the advancement of work permits in this very critical time. My team continues to work closely with Januvation Solutions, consultants and creators of the system, so that we are able to launch prior to the end of this quarter.
Conclusion
In a time where the world grapples with this pandemic, we must be cognisant that we are not exempted from the harsh reality of its effect on employment. Nevertheless, we will continue to work as a Government to assist in the smooth and comfortable transition of our working population into the next phase of this "New Regular".
As Minister for Labour and Immigration I will continue to put the plow to the ground for you the people of this Territory, in making sure that the decisions made relative to the working populace will be in the best interest of this Territory and its people.
Please continue to remain safe during this time by practicing social distancing, washing your hands, wearing masks, and following all other guidelines as set out by the Government to safeguard your life.
Be good stewards by maintaining the curfew hours, and most of all continue to be patient as we work together to get through this period.
Business owners please remember no mask no service! You must ensure that you have clear and visible physical markers of 6 feet, inside and outside, of your facilities in order to do business in a safe manner in this new regular.
To the people of the BVI, put on your mask. Practice social distancing.
Regularly wash our hands for 20 seconds with soap and water.
Let us all keep each other safe because we're in this together.
May God continue to bless you all and may God continue to bless these beautiful Virgin Islands