Premier's Office
BVI Tourist Board
Release Date:
Tuesday, 19 October 2021 - 2:10pm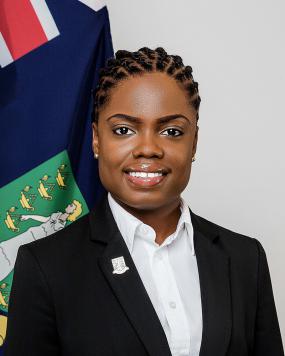 Tourism Update: Friday, October 8th 2021
Premier and Minister of Finance, Hon. Andrew Fahie, representatives of the BVI Tourist Board, BVI Ports Authority, Taxi & Livery Commission, industry partners, members of the media, fellow Virgin Islanders and residents, ladies and gentlemen both home and abroad listening by various communication platforms; Good Morning!
It is with absolute pleasure and great pride that I stand with Premier to provide you with an update on our latest efforts in relation to Cruise Tourism. On September 27th, I was pleased to be part of the delegation, led by Premier Fahie – that attended the 2021 Seatrade Cruise Global Trade Expo in Miami, Florida. The delegation comprised of:
The Minister of Transportation, Works and Utilities, whose attendance was crucial in ensuring that taxi and tour operators would be represented and that they would be fully engaged in the demands of the industry in relation to providing safe transportation to cruise passengers around the territory. This was also to ensure that effective protocols are in place for the public's safety when using transportation services.
I attended in my capacity as Junior Minister of Tourism along with the Chairman and Director of the BVI Tourist Board. Our focus was to ensure that the agency which is largely responsible for Tourism development represented the interest of all tourism stakeholders and participated in discussions for effective and safe delivery of our Cruise tourism product.
The delegation also included representatives from BVI Ports Authority and C.B. Romney Tortola Pier Park, who have an obligation to maintain key relationships with our Cruise partners, especially during the pandemic considering they are directly responsible for our Cruise Tourism segment.
As Junior Minister for Tourism, I am very much aware of the significance of the tourism sector and how many households and businesses depend on its viability and growth. I know fully well, that since the onset of this pandemic many of those families and businesses which depend on this industry have not worked. As such, there is an urgent need for us to balance safety with the revitalization of our cruise product. This is why I am thankful for the leadership of our Premier, who vigorously pushed for the reengagement of our Cruise Tourism segment. I can tell you that as a Government, we attended Seatrade with one aim; and that is the successful resumption of Cruise Tourism in our territory; which contributes some $70 million to our economy!
It is also important to note that prior to discussions with any of our cruise partners, we wanted to ensure that the team was clear of each objective. As such we were strategic and deliberate to ensure briefing meetings were held with the delegation every morning so that we were all on the same page and debriefings followed at the end of each day to evaluate all that was discussed. As a delegation we wanted to ensure that every area was considered, every potential issue addressed and that we were prepared to take advantage of any opportunity presented. I would like to thank the Premier for his leadership on this very vital sector and I also recognize the hard work of all the different agencies that contributed significantly in getting us to this point.
Additionally, our representation was key as I believe it was important for us to demonstrate the territory's desire and commitment to welcome our cruise partners back to the BVI. During these intense discussions with the Cruise Industry our goal was to arrive at a strategic understanding for operations during the Covid-19 era, to enhance relationships and find mutually beneficial approaches for a safe restart of our cruise industry during the New Regular.
I can confidently report that our operations plan was met favorably and Cruise lines also indicated that interest in the BVI as a destination remained high.
As such, during the meetings at Seatrade, our cruise partners confirmed a total of 176 calls to BVI beginning October 13, 2021 up until 2024. This confirmation indicates that the cruise industry is confident in our ability as a Territory to deliver a safe and excellent cruise product for their guests. These additional calls represent most of our major cruise lines such as Disney, Carnival and Royal Caribbean. The Territory can expect a total of 299 calls with 193 at the Cruise Pier for the 2021-2022 season with a projected increase the following season.
In the coming days the BVITB will be providing information with respect to hospitality training which includes a COVID-19 training component. As such, I am appealing to all relevant businesses to make every effort to participate. Businesses wishing to do so can contact the BVITB directly for additional information. The goal, of course, is to ensure the businesses which serve the tourism industry are fully prepared to operate in a safe environment.
This government is always mindful of our greatest resource which is our people. A number of parents have expressed concerns with respect to the transportation segment as independent taxi operators are likely to provide service to cruise passengers and the public alike especially our school children. Therefore, in order to ensure the greatest level of care and safety, The Taxi and Livery Commission (TLC) in conjunction with the BVI Tourist Board (BVITB) and the Environmental Health Department (EHD) will also be hosting a series of Sanitization and Disinfection/Customer Service training which would constitute as Cruise Certification for Public Transport Operators. Also, operators are required to agree to bi-weekly testing as well as other requirements stipulated by the BVITB which would deem them to be Cruise Certified.
To manage the safe re-integration of transportation into society, after providing Cruise Passenger Transport, Public Transport Operators are expected to Check-Out by stopping at a Sanitization and Disinfection Station managed by the Taxi and Livery Commission and The Environmental Health Department. After the Sanitization and Disinfection requirements, the vehicles will be inspected, relevant information logged and Public Transport Operators will
be officially discharged. This has been implemented to address any health and safety concerns particularly from parents. These safety Measures are in addition to the existing Covid-19 Public Transportation Guide.
As I close I would like to emphasize that as we continue to move forward in pushing our economy into overdrive while maintaining the health and safety protocols, it is our goal to secure opportunities for every household. I wish to thank the people of the BVI for your confidence in us as well as for your patience while we continue to work diligently to further develop our economy and advance the people of this territory. Once again, I thank you.