Premier's Office
Central Statistics Office
Release Date:
Tuesday, 5 October 2021 - 1:51pm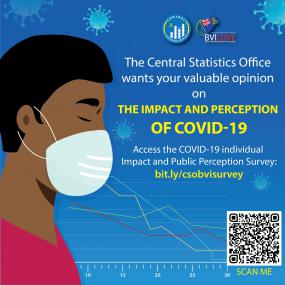 Director of Central Statistics Office, Mr. Raymond Phillips is inviting the public to complete a COVID-19 Individual Impact and Public Perception Survey which seeks to solicit the opinions of residents and explore how they may have been affected by the virus.
Mr. Phillips said the department is seeking answers to questions including whether respondents viewed the COVID-19 situation in the Virgin Islands as dreadful or not so serious, and whether their income was affected by the pandemic.
Answering a series of questions such as these Mr. Phillips said, will allow the Government of the Virgin Islands to understand how the pandemic has uniquely affected individuals relative to the rest of the population and subsequently generate useful data to guide policymaking decisions.
The Director added, "Data should be available to understand the impacts of COVID-19 and how such are viewed by the population. Information produced from this survey will play an important role in the efforts to effectively manage this socially and economically debilitating health crisis."
Mr. Phillips said the survey is strictly anonymous and does not require names. Completion time he said is less than 5 minutes, and that persons can access it directly at: bit.ly/csobvisurvey .
The Central Statistics Office is committed to informing and facilitating the socio-economic development process in the Virgin Islands through the provision of timely and accurate statistical information.
Author