Ministry of Health & Social Development
BVI Health Services Authority
Release Date:
Friday, 22 November 2019 - 5:05pm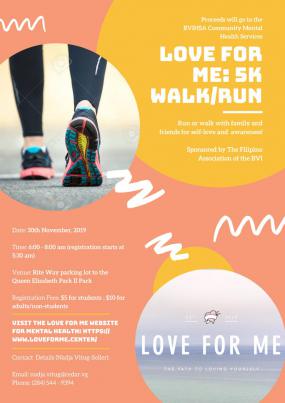 Grade 10 student Nadja Vitug Soller of the Cedar School is hosting a "Love for Me" 5k Walk to raise awareness on mental health issues within the Territory.
Miss Soller said the event was organised out of a concern for teenagers, their mental health and the issues they face.
"I recognize as a teenager myself that teenagers usually have a lot of problems in accepting themselves for who they truly are and they find it hard to adjust to change so I want my blog and my event "Love for Me" to help with that," she said.
The "Love for Me" blog according to Ms. Soller is an inspiring message of self-love which provides a positive mindset that an individual must have within themselves in order to find inner peace. She hopes to inspire teens to accept themselves, give themselves a positive mind set and see the importance of loving themselves first.
Director of Mental Health, Dr. Virginia Rubaine said that she is encouraged that someone so young would have the courage to start a project such as this and reach out to what is a very vulnerable population.
Dr. Rubaine said "Persons who engage in self-love, experience better mental and physical health. If you are taking care of yourself that means you know what your blood glucose and pressure is. That means that you are eating well and you are doing things to ensure that you remain healthy."
The director noted that the earlier self-care techniques are implemented, the better the likelihood that the habits will continue into adult hood. "The earlier we can get kids into to take care of themselves, the better they will feel about themselves, the higher their self-esteem and the more confidence they will have."
The "Love for Me" 5K Walk will be held on Saturday November 30 from 5:30 a.m. to 8:00 a.m. from Rite Way's Pasea location to the Queen Elizabeth II Park and back to Rite Way's Pasea. A registration fee of $5 will be collected from students and $10 from adults and non-students. Registration proceeds will be donated to Community Mental Health and Substance Abuse Services.
"We will be out on the route to interact with the community who is participating in the event to answer any questions, comments or concerns they may have regarding mental wellness," Dr. Rubaine expressed.
Persons who are desirous of making donations above and beyond the registration can do so. "We have a food pantry that is empty. We accept canned goods, toiletries like deodorant, toothpaste, tooth brushes and other items," the director noted.
The community is encouraged to participate in the "Love for Me 5K Walk/Run" that is being sponsored by the Filipino Association of the BVI on Saturday November 30.
The BVI Health Services Authority is committed to delivering excellent, compassionate, client centered healthcare across the Territory.
Author