Ministry of Health & Social Development
Department of Waste Management
Release Date:
Monday, 25 July 2022 - 12:55pm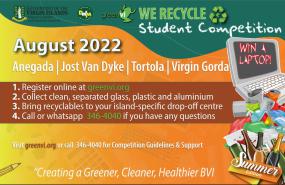 Minister for Health and Social Development Honourable Marlon Penn is encouraging students to participate in the upcoming Student Recycling Competition being hosted under the theme, "WE RECYCLE".
The competition is being administered jointly by Department of Waste Management and the Non-Profit Organisation, Green VI and will run concurrently on the main islands of Anegada, Virgin Gorda, Jost Van Dyke and Tortola for the entire month of August.
Honourable Penn said students will be encouraged to collect and recycle plastic bottles, bags, containers, packaging, foams, films, glass bottles and jars and aluminum drink cans.
"Once registered, students can drop off clean, separated recyclables at a Collection Centre, where deposits will be weighed and recorded. Students who collect the most plastic, or the most glass, or the most aluminum on each island will win a new Laptop Computer. The winners will be announced on September 2 and I wish everyone the best," he said.
Honourable Penn added, "The contest is intended to put more "WE" into "WE RECYCLE", so relatives and friends are encouraged to join in and support the students in this recycling drive."
Students are encouraged to sign-up online at greenvi.org, or call or WhatsApp 346-4040 to participate in the competition.
The Department of Waste Management is committed to ensuring that the natural beauty of the Territory is enhanced by utilising state of the art waste management technology to ensure timely collection disposal and where possible the recycling of waste.
Author