Ministry of Education, Culture, Youth Affairs and Sports
Release Date:
Thursday, 9 March 2023 - 9:26am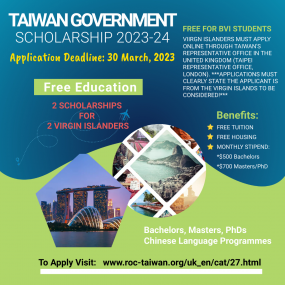 The Government of the Virgin Islands is the recipient of scholarships funded by the Government of Taiwan.
Two scholarships will be awarded to two Virgin Islanders, who will be able to pursue up to four years of study for bachelors, masters, or doctoral degrees in any field of their choice at any university in Taiwan.
The scholarships include tuitions, housing, and a monthly living allowance of $500 for bachelors and $700 for masters or PhD). The closing date for applications is March 30.
Two additional scholarships are available for short Chinese language programmes to which any Virgin Islander can apply. Virgin Islanders are required to apply online through Taiwan's Representative Office in the United Kingdom (Taipei Representative Office, London) by the March 30 deadline.
Interested applicants will benefit from unique opportunities to study abroad as this programme will build mutually beneficial cultural exchanges, business and employment links, and most importantly lifelong friendships.
Applications must clearly state that the applicant is from the Virgin Islands to be considered. Interested persons may apply at: https://www.roc-taiwan.org/uk_en/post/9608.html https://www.roc-taiwan.org/uk_en/post/9575.html
The Taiwan Government Scholarships are sponsored by Taiwan's Ministry of Education and offered individually to countries and territories in the Caribbean including the Virgin Islands, St. Kitts, St. Vincent and the Grenadines, St. Lucia, Haiti and Belize.
The programme was established to make Taiwan an international study centre for outstanding students from the Caribbean and Latin America, as well as to promote friendly relations between Taiwan and the world.
The Virgin Islands Hong Kong Office is the Government of the Virgin Island's office tasked with representing the broad interests of the Territory in the Asia-Pacific Region.
● The Virgin Islands Hong Kong Office is strategically located in the center of East and South East Asia, the Hong Kong Office was launched in September 2013 initially to facilitate the greater expansion of the BVI's Financial Services Industry into China, East Asia, and South East Asia markets.
●Over the course of a decade, the role of the office has evolved to facilitate BVI's interests in the areas of education & cultural exchange, environment, finance, foreign direct investment, international development cooperation, provincial & city level partnerships, and tourism across the region. For further information or queries please contact the BVI Hong Kong Office @: Email: bvigov@bvihongkongoffice.com.hk Tel: +852-3468-8530 WhatsApp: +852-9859-1305
Author