Governor's Group
Royal Virgin Islands Police Force
Release Date:
Thursday, 26 April 2018 - 5:19pm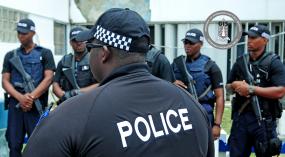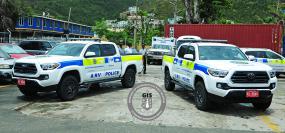 The Royal Virgin Islands Police Force (RVIPF) is the recipient of two Armed Response Vehicles (ARV) equipped for the Virgin Islands terrain, specifically for transporting officers of the newly trained and enhanced Armed Response Unit.
The vehicles were donated under the UK funded project which has provided specialist armed response and command training repairs to Road Town and West End stations, support to homicide detection and workforce planning.
At a brief hand-over ceremony today, April 26, His Excellency the Governor Augustus J. U. Jaspert presented the keys to the Acting Inspector and Head of the Armed Response Unit of the RVIPF, Dean Robin in the presence of Commissioner of Police, Mr. Michael Mathews.
Governor Jaspert said that he was pleased to present the gift as it represented a partnership between the UK and the Territory to bolster security.
He said, "These armed response vehicles are just part of the security plan that we have in the Territory. We are improving and supporting the police and the partnership between the United Kingdom and the British Virgin Islands."
The Governor commended the Royal Virgin Islands Police Force for their service to keep the Territory safe.
Governor Jaspert said that the officers, "Are people who deserve our utmost respect, who daily put their lives on the line for us to keep our Territory safe and its absolutely right that they are supported with the most effective training, the most effective equipment and the back-up of all of the Territory. They do a most important job which is keeping us safe."
The United Kingdom is in the process of making additional funds available to provide further specialist training to ultimately increase the force's specialist armed capability to four times its original size with a total of 36 officers. The skills of present ARV officers will also be enhanced to respond to scenes where perpetrators are believed to be carrying deadly weapons.
United Kingdom funds were also made available to purchase a law enforcement firearms response simulator where officers are able to hone their skills in responding to incidents.
The United Kingdom continues to support the Government of the Virgin Islands in its work to recover the British Virgin Islands by rebuilding stronger, smarter, greener, better.
https://bvi.gov.vg/sites/default/files/audio_-_uk_donates_armed_response_vehicles_to_rvipf.mp3
Author