Ministry of Natural Resources, Labour and Immigration
Ministry of Health & Social Development
Release Date:
Tuesday, 2 June 2020 - 4:51pm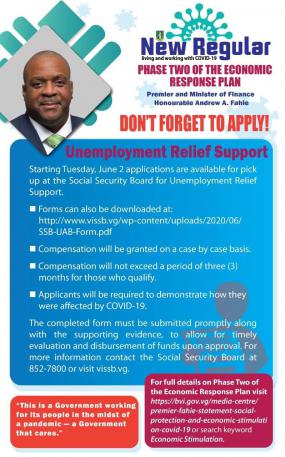 Persons whose employment has been affected by the COVID-19 pandemic are urged to apply for unemployment relief support.
Premier and Minister of Finance, Honourable Andrew A. Fahie in his statement "Phase II of the Economic Response Plan- Social Protection and Economic Stimulation in COVID-19" on Thursday, May 28 said that application forms for unemployment relief support would be available for these persons.
Premier Fahie stated that affected persons should submit completed forms with all the supporting evidence promptly to allow for timely evaluation and disbursement of funds once approved.
Application forms can be downloaded from the Social Security Board's website at http://www.vissb.vg/wp-content/uploads/2020/06/SSB-UAB-Form.pdf. Forms can also be picked up at the board's office located in the Joshua J. Smith Building.
Persons are also reminded that compensation will be granted on a case by case basis, and will not exceed a period of three (3) months.
For more information, please contact the Social Security Board at 852-7800 or visit https://www.vissb.vg/.
Full details on Premier and Minister of Finance, Honourable Andrew A. Fahie's statement can be found on the Government's website at https://bvi.gov.vg/media-centre/premier-fahie-statement-social-protection-and-economic-stimulation-covid-19
Attached: Photo 1: Unemployment Relief Support Flyer (GIS)
Author