Premier's Office
Department of Trade, Investment, Promotion and Consumer Affairs
Release Date:
Thursday, 16 February 2023 - 2:15pm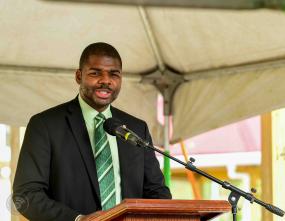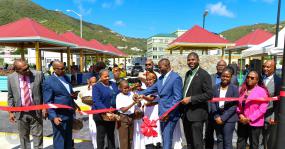 Premier and Minister of Finance Dr. the Honourable Natalio Wheatley has said that the remodeled Road Town Market Square signals the regulation of vending in the Territory.
Premier Wheatley, while addressing the official opening of the Road Town Market Square on February 13, said greater market regulation will enhance the protection of the vendors' rights within a legal framework, as well as clearly outline their obligations.
The Premier added that vendors who will be operating in the Market Square will undergo assessment to ensure that the required criteria have been met. This, he said, will improve quality of commercialisation in the Territory through increasing producers' participation in the market.
Meanwhile, Junior Minister for Trade and Economic Development Honourable Shereen Flax-Charles stated that the Virgin Islands should continuously strive towards achieving a golden standard by empowering farmers and fishermen.
Honourable Flax-Charles in remarks at the official opening of the market square mentioned that historically, the economic structure of the Virgin Islands was contingent on the fishing and agriculture industries.
The Junior Minister stated that the Government of the Virgin Islands has not only facilitated a physical space that is conducive to the secure trade of goods, but in addition, branding, marketing, and recordkeeping practices will be fostered through capacity development initiatives.
These initiatives, she noted, will aid the reduction of costs associated with harvesting and production, to ensure the affordability of goods and market competitiveness.
"Due to these regulation measures, the interests of both consumers and producers will be protected which in alignment with the Government's objectives to promote productivity," the Junior Minister said.
Honourable Flax-Charles also said that it is critical that the Virgin Islands maintains its reputation in the global economy as a diverse market that operates with distinction.
"This is a space for which we have set high standards. We expect the vendors, and those who are stationery, and those sister islands residents who utilise the walk-in option, to match the caliber and intention of this space," she further stated.
The opening of the Road Town Market Square also had other speakers including Deputy Premier and Minister for Communications and Works Honourable Kye Rymer, Representative for the Fourth District Honourable Mark Vanterpool, City Manager Mrs. Janis Brathwaite-Edwards and Deputy Governor Mr. David Archer Jr. Other senior public officials were also present along with members of the community.
The Department of Trade and Consumer Affairs continues to function as an interface between the business community and the Government, focusing on specific sector needs and areas for industry development and economic growth.
Author