Royal Virgin Islands Police Force
Premier's Office
Release Date:
Tuesday, 30 August 2016 - 11:49am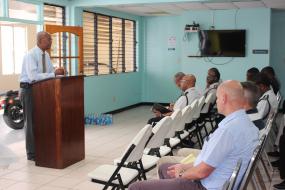 The Government of the Virgin Islands has reiterated its commitment to fully equip the Royal Virgin Islands Police Force (RVIPF) to efficiently achieve its mandate.
Premier and Minister of Finance, Dr. the Honourable D. Orlando Smith, OBE, in an address to officers and staff of the force last Thursday August 25, said this support will come in the form of the recruitment of additional officers to bring the force up to the full complement of officers to improve the efficiency of the service; strengthening of the current training programme; and the addition of vehicles to the current fleet.
The Premier commended the police officers for keeping the Territory safe. He spoke of the importance of the officers' roles in helping to ensure that the British Virgin Islands can be promoted as an ideal place to live, work, visit and do business.
Premier Smith said, "As the Premier and Minister of Finance, I am definitely in support of the Royal Virgin Islands Police Force and the other enforcement agencies like the Immigration and Customs Department in doing what they have to, and continuing to make the BVI even safer."
Premier Smith stated that the RVIPF is one of the main bodies that has the responsibility of keeping the Territory safe from the point of view of criminal activity, and added that he was pleased with the level of security provided by the law enforcement agency. He noted that it is important that all agencies continue to work together in order to maintain the quality level of law and order experienced in the Virgin Islands.
His Excellency the Governor, John S. Duncan OBE, also commended the police force on their steadfast performance during a difficult period. He said he was confident that under the new leadership of Commissioner Matthews, the force had now turned the corner and with the support of the National Security Council, he looked forward to steadily improving results.
Meanwhile, Commissioner Mr. Michael Matthews, expressed his appreciation to the Government for its commitment to the Force.
The Commissioner said that Government's support will go toward recruiting an additional 30 officers; 20 of whom will be persons born or raised in the Territory and ten will be recruited from overseas to bring immediate needed skills to the force. Government is also providing the funding for the training of the 20 new officers,and is also providing the means for purchasing four new vehicles to be added to the current fleet in the first instance, and three per year thereafter.
The Government is committed to ensuring public safety and providing the Royal Virgin Islands Police Force with the resources needed to reduce criminal activity and maintain a safe environment for all residents and visitors to the Territory.
Author