The Labour Department is testing a new process for work permit renewals. It is part of efforts to provide a faster, easier and more efficient service for customers.
Persons whose current work permit will expire between April 17 and June 11, 2017 are eligible to participate in the test phase. To learn more about the test phase and for instructions on how you can participate, review the process below.
Persons who do not wish to participate in the test phase should complete the First and Second Schedule and submit same to the Labour Department.
Process
To participate in the testing, please follow these steps to apply for renewal of your Work Permit.
1. Schedule an appointment to submit your application.
a. An employee (or employer on behalf of an employee) schedules an appointment four weeks before the work permit expires. The table below helps you determine the correct time to submit your application. Only one application will be accepted during each appointment time.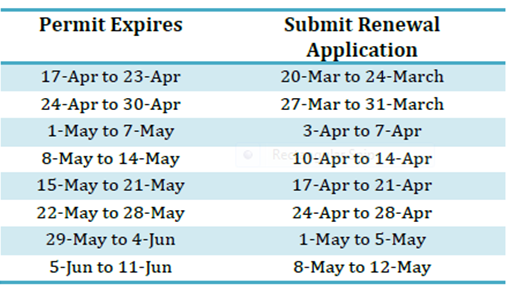 b. Make an Appointment
Please provide the employee's first and last name and telephone number.
2. Get the application package.
Download the Work Permit Renewal Application Form.
Part 1 of the application form must be completed and signed by the employer.
Part 2 of the application form must be completed and signed by the employee.
Please fill out all the fields, print and sign the application. If some of the fields are not applicable, enter N/A.
In Part 1, the employer is asked to classify their business in the most appropriate economic sector. The employer is also asked to report the applicant's occupation. Please consult the following tables before answering those questions:
Occupations:
Chief Executives, Senior Officials and Legislators
Administrative and Commercial Managers
Production and Specialized Services Managers
Hospitality, Retail and Other Services Managers
Science and Engineering Professionals
Health Professionals
Teaching Professionals
Business and Administration Professionals
Information and Communications Technology Professionals
Legal, Social and Cultural Professionals
Science and Engineering Associate Professionals
Health Associate Professionals
Business and Administration Associate Professionals
Legal, Social, Cultural and Related Associate Professionals
Information and Communications Technicians
General and Keyboard Clerks
Customer Services Clerks
Numerical and Material Recording Clerks
Other Clerical Support Workers
Personal Services Workers
Sales Workers
Personal Care Workers
Protective Services Workers
Market-oriented Skilled Agricultural Workers
Market-oriented Skilled Forestry, Fishery and Hunting Workers
Subsistence Farmers, Fishers, Hunters and Gatherers
Building and Related Trades Workers (excluding Electricians)
Metal, Machinery and Related Trades Workers
Handicraft and Printing Workers
Electrical and Electronic Trades Workers
Food Processing, Woodworking, Garment and Other Craft and Related Trades Workers
Stationary Plant and Machine Operators
Assemblers
Drivers and Mobile Plant Operators
Cleaners and Helpers
Agricultural, Forestry and Fishery Labourers
Labourers in Mining, Construction, Manufacturing and Transport
Food Preparation Assistants
Street and Related Sales and Services Workers
Refuse Workers and Other Elementary Workers
Economic Sectors:
Agriculture, forestry and fishing
Mining and quarrying
Manufacturing
Electricity, gas, steam and air conditioning supply
Water supply; sewerage, waste management
and remediation activities
Construction
Wholesale and retail trade; repair of
motor vehicles and motorcycles
Transportation and storage
Accommodation and food service activities
Information and communication
Financial and insurance activities
Real estate activities
Professional, scientific and technical activities
Administrative and support service activities
Public administration and defence;
compulsory social security
Education
Human health and social work activities
Arts, entertainment and recreation
Other service activities
Activities of households as employers
3. Submit your application.
Submit your application and any supporting documents to the Labour Department on the date and time selected in Step 1. If you are late or you miss your scheduled appointment, you will have to reschedule by following Part B of Step 1. Incomplete applications will not be accepted.
4. Check the status of your application.
a. Completed applications for renewals will be processed within two weeks.
b. During the two-week processing, applicants or your employers may be contacted if additional information is needed.
c. Two weeks from the date you submitted the application, visit the Work Permit Status Page to find out whether your application has been approved and is ready for pick up. You will need to have your work permit number available when checking the status online. Alternatively, we will contact you once your application is processed and ready for pick up. Please ensure that we have a correct phone number and/or e-mail to reach you.
Supporting Documents
All applicants must provide:
Completed application form, signed by the employer and by the employee.
Valid passport.
Current work permit card.
One passport size photo.
Other documents we may need:
Copy of the employer's trade license relevant for this work permit. Note: Copies of trade licenses are submitted by employers once a year. If your employer has already submitted their license to Labour Department for the current year, you do not have to submit the copy again. Please confirm with your employer that the current copy is submitted to the Labour Department before you submit your renewal application.

Copy of a renewed professional license for the following occupations:
Diver: Certified PADI (Professional Association of Diving Instructors)/NAVI (Nautical Training) Certificate, Captain license, STCW Certificate
Charter Yacht: STCW (Standards of Training, Certification and Watch-keeping) Certificate, Captain License/Virgin Islands Boat Masters License
Financial Services: approval letter or certificate from Financial Services Commission where applicable.
Vet/ Agriculture/Farming: Certified copy of certification from Department of Agriculture.
Fishing: Renewal Fishing License
Doctor: Renewal Certificate from the Medical Board and the Minister of Health
Nurse: Renewal Certificate of Approval from the Medical Board
Lawyers: Renewal BVI Bar certificate
Department Contact Information
LabourDepartment
Ashley Ritter Bldg
Road Town, Tortola
Virgin Islands (British) VG1110
Business Hours:
Monday - Friday
8:30 a.m. to 4:30 p.m.
Cashier: 8:45 a.m. to 3:00 p.m.
Email Address:
labour@gov.vg
Telephone: 1(284) 468-4707
Fax: 1(284) 494-3027/468-2570