Ministry of Health & Social Development
Environmental Health
Release Date:
Tuesday, 10 December 2019 - 8:48am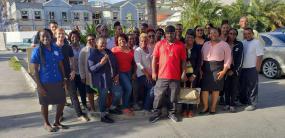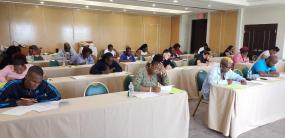 Twenty-nine professionals are now certified in ServSafe Food Protection Management course offered by the British Virgin Islands Environmental Health Division.
Servsafe is a United States of America (USA) based certification training course in Food Safety Science that is internationally recognised and accepted by several countries. The course focuses on the technical and managerial aspects of Food Safety Science and is applicable to the Virgin Islands.
Candidates must have possessed a sound educational background and be at a senior level (kitchen supervisor, chef, accountant, manager, owner, etc.) within the food establishment.
Chief Environmental Health Officer Mr. Lionel Michael noted that the course emphasises the importance of preventing foodborne diseases in food businesses and commended participants for being dedicated to learn more about food safety.
The course took place from December 4 to 6 with the financial assistance of the Pan American Health Organization (PAHO). The course objectives were aimed at improving the knowledge base of personnel in the food service industry about the factors which contribute to safe food; increasing the understanding of food providers/handlers of their role to keep food safe; and preventing foodborne diseases in the food service industry.
For more information on the ServSafe, contact the Environmental Health Division at 284-468-5110.
The Environmental Health Division is committed to ensuring that all aspects of the environment with the potential to negatively impact health are managed efficiently to enable all persons in the BVI to attain and maintain optimal health and social well-being.
Photographs are attached.
Photo Caption 1 of 2: Twenty-nine (29) professionals are now certified in ServSafe Food Protection Management course offered by the British Virgin Islands Environmental Health Division. (Photo Credit: EHD)
Photo Caption 2 of 2: Participants during the ServSafe Food Protection Management course offered by the Environmental Health Division. (Photo Credit: EHD)
Author