Ministry of Health & Social Development
Environmental Health
Release Date:
Thursday, 31 October 2019 - 5:29pm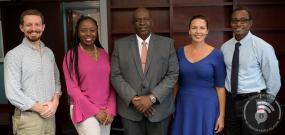 The Government of the Virgin Islands has signed a Memorandum of Understanding (MOU) with Green VI to strengthen vector control and increase community engagement by way of BugOut.
BugOut is a community-based vector management programme which was launched as an extension of the public health intervention on Virgin Gorda; that was deemed successful. As part of the MOU, the Government will allow for the extension of the BugOut programme throughout the Territory with the expectation of greater involvement in vector control, surveillance and community activation by Green VI.
Minister for Health and Social Development, Honourable Carvin Malone expressed his gratitude for the continued partnership with Green VI.
Honourable Malone said the programme will allow for the Territory to pay particular attention to disease-carrying mosquito types and provide opportunities to eliminate breeding sites.
Green VI Board member representative, Dr. Ronald Georges stated that the initiative will share the benefits and lessons learned from the programme on Virgin Gorda.
Partnering with Green VI in the expansion is Vectorstars, a nonprofit organisation supporting global interventions strengthening public health.
Representative Mr. Michael Jooste was also in attendance at the signing and added that the collaboration will allow for the use of new technology with the Environmental Health [Division] in the management of vector in the Territory.
The Ministry of Health and Social Development aspires to provide a caring and integrated system of health and social services that facilitates human development and quality of life in the British Virgin Islands.
Note to Editors: Photographs are attached.
Caption 1 of 2: The Government of the Virgin Islands signed a memorandum of understanding with Green VI to strengthen vector control and increase community engagement on October 25, 2019. (Photo Credit: Ronnielle Frazer/GIS)
Caption 2 of 2: From left to right, Vectorstars representative Mr. Michael Jooste; Permanent Secretary in the Ministry of Health and Social Development Ms. Petrona Davies; Minister for Health and Social Development Honourable Carvin Malone; Green VI Representatives Sarah Penney and Dr. Ronald Georges during the signing of the MOU for the expansion of the BugOut vector Programme. (Photo Credit: Ronnielle Frazer/GIS)
Author